Sunday Reflections: What's a Powder Puff?
Like most of us, I wear a few different hats. In addition to being a teen services librarian, I'm also a Daisy Girl Scout leader, and I love it. I love the enthusiasm of first graders, their pure hearts and bright eyes. I love getting to be the one to introduce them to service projects and nature hikes, to seeing new friendships blossom and old friendships deepen. As a Girl Scout alumni, and a third generation leader, it's one of the more fulfilling roles I've ever held.  As with my librarianship, I am passionate about my opportunity as a leader to advocate for the girls in my troop, and hopefully by extension, for all girls. Unfortunately, I'm struggling with how to advocate for them right now in the face of some institutionalized sexism that's coming from an unexpected and troubling place.
I heard about the event before I saw the flyer, and I knew immediately that "my girls" – the eight first graders in the Daisy troop I lead – would be all about it. For the first time ever, our local Girl Scout council is hosting a pinewood car race. These girls have been cooped up in the park district rec room all winter and have been itching for a chance to do something. Something cool. Something active. Something that real Girl Scouts do: have an adventure.
SCROLL TO KEEP READING THIS POST
For five dollars, you buy a car kit, which consists of a block of wood, two axles, four wheels, and a good luck wish, which you use to craft the fastest little car you can. What's not to love?! It's creative, it's active, it's hands-on, it hits a bunch of STEAM marks, and at the end there's a race with winners and there are even those ever-important patches to sew on the back of the girls' vests. So cool. We can't … oh wait.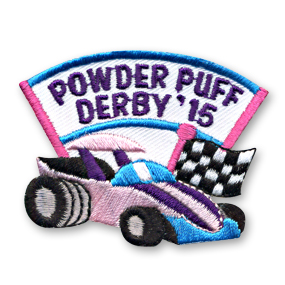 Seriously. What in the name of Shirley Muldowney is THAT?
Yes, folks. The good old Girls Scouts of the USA is sponsoring a Powder Puff Derby. I can't tell you how my heart sank to read that. I was floored. I guess I've been living in a little bubble because I figured that we were essentially beyond this kind of sexist naming tradition in the women run, girl powered, STEM focused world of Girl Scouting in 2015. The Pinewood Derby is a registered trademark of the Boy Scouts of America, so I understand that the Girl Scouts wouldn't call their race the same thing – but of all of the phrases to use, why, oh why, is powder puff the one they chose? Since we're not racing cosmetic products, it's clearly because this is an activity that the boys usually do, but now the girls can give it a try too. But this secondary naming does nothing to assure girls that they have a place in the race. Powder Puff events were those where it was cute and fun for the girls to swap roles with the boys: the cheerleaders played football, the women raced their planes across the country, and now, the girls build, bling, and race their own wooden cars too.
As I held up the flyer and talked up this event – which I'm really excited about – and my scouts eyes' opened wide with enthusiasm, one girl raised her hand. "But what's a powder puff?"
Just to be perfectly clear, my problem is not with the event. It's not with encouraging girls in this pursuit. It's not in borrowing from the Boy Scouts wildly popular event. It's in the name. A name that, as far as I can tell, was coined in this context by humorist Will Rogers as a nickname for the first Women's National Air Derby.
SCROLL TO KEEP READING THIS POST
And as many accounts attest, despite the name, Will Rogers was a great supporter of women in this pursuit, just as the Girl Scouts are today. But still, the name.
Before I could go on about car designs or scheduling or working days, I had to first explain to my girls what a powder puff actually is. These girls are too young for makeup, and as far as they know, a car race is a car race. Girl Scouts have always told them they could do and be anything at all. So I started by telling about the makeup applicator, and then went on to explain the tradition of calling activities that girls do sometimes but boys do all the time… a powder puff activity. And frankly, I didn't have it in me to go into the part that bothers me the most, that our beloved Girl Scouts think that this is ok.
Powder Puff football is still played on some campuses, and many fondly remember the fun and athleticism of the event. And that high level of competition – whether it's by the girls in the senior class, or trailblazing aviators, or eight year olds with a block of wood and some sandpaper – is exactly why the name is outdated, diminishing, and just plain wrong. The girls and women involved in these events take it just as seriously as anyone. The aviators competed on a level parallel to the men. The seniors play so ferociously that injuries are sadly not at all uncommon. And if you could have seen the spark in the room at that Daisy Scout meeting, you'd be dead sure that these first graders are in it to win it.
I've voiced my concerns directly to my local Scout council, and understand that they're thinking about changing the name for next year. But that doesn't seem like enough anymore. The time has come. The name has to change. It took my Daisies about forty seconds to come up with at least ten new possibilities. Words matter. Names matter. Our girls are proud to call themselves Daisies, Girl Scouts, brave, creative, strong, smart, caring, dedicated, and fast. Girl Scouts is the last organization that should be planting the seeds of self doubt that come along with sexist naming traditions.
Filed under: Feminism, STEAM education, STEM Education, Sunday Reflections
About Heather Booth
Heather Booth has worked in libraries since 2001 and am the author of Serving Teens Through Reader's Advisory (ALA Editions, 2007) and the editor of The Whole Library Handbook: Teen Servcies along with Karen Jensen.