Criticism, Boycotts, Free Speech and Censorship – Oh My
What do Abrams Books, Carve the Mark, The Continent, When We Was Fierce and more have in common? This year they were all challenged for having offensive and harmful representation of marginalized people. Things exploded this weekend for Abrams Books. It's being discussed all over Twitter and in the news, so I'm not going to get into the nitty gritty details. What I want to do, however, is talk about the idea that any or all of these are acts of censorship.
First, let me just recap it real quickly for you. Earlier this year, Abrams Books published a "satirical" piece of literature called Bad Little Children's Books. Kelly Jensen pointed out over at Book Riot that this wasn't just bad satire, it was flat out racist. Many people read the article and asked, "Holy Crud, how did this even get published?" In particular, marginalized voices stated that not only was this book offensive, but that it was actively harmful to their well being and safety, particularly in the year 2016. They criticized Abrams Books. They stated they were going to boycott the book and the publishing house.
SCROLL TO KEEP READING THIS POST
So what did Abrams books do? Well, first they doubled down and said we stand by this book and against censorship. Debbie Reese has a running commentary on this all here, including links to articles and Abrams Books various statements. It's important to point out, censorship is not actually a part of this story. Then a couple of days later they released a new statement saying man they really hated censorship but were going to be censored so they were pulling the book. (Edited: They are not pulling the book, they are just not doing a second publication run according to Publisher's Weekly.)
So let's break this down.
First of all, citizens and consumers have a right to criticize any art, product, action, etc. This includes calling a book racist and asking the publisher to consider the harm done with the book and yes, asking them to reconsider publishing it. They have the right to call for a boycott. This is how both free speech and the free market economy work. Abrams didn't have to pull the book, but in the end they VOLUNTARILY chose to respond to those expressing complaint by opting to pull the book. This is not censorship.
In fact, this is no different then the Target corporation releasing a statement saying they support the GLBTQA+ community and Christians calling for a boycott against Target. Or Kellogg's announcing that they will no longer advertise with Breitbart and the conservative party calling for a boycott of Kellogg's. They are the exact same principles at work. Neither one of these are censorship. The same principle is at work if someone decides to drive 30 miles to the next town over to buy 8 boxes of Kellogg's cereal at Target. Not that I know anyone who did that.
Censorship is when the GOVERNMENT tells someone that they can't speak or publish a book. Or when the GOVERNMENT pulls them out of circulation and burns them. Or when the GOVERNMENT issues fines or imprisonment for saying a thing. See the difference there. Censorship is a very real threat, however. Censorship is when President-Election Trump says we should shut down part of the Internet or more closely control the press or when he – now an elected official – blocks the citizens he is supposed to serve on Twitter because they don't agree with him. Well, blocking people on Twitter is probably not censorship, but it's not a good move on the part of an elected official. How can he serve the people if he isn't even open to hearing from them? That is not what Democracy looks like.
There are exceptions to free speech. Hate speech (Edit: hate crimes) is not a guaranteed right because it puts people in jeopardy and infringes on THEIR human rights. Likewise, calling fire in a theater or bomb in an airport, not covered because they can incite panic and harm.
Some hateful speech is unprotected if it crosses over into conduct — such as the use of a racial slur to threaten or intimidate someone. And hateful speech in the workplace can create a "hostile environment" that the courts have treated as a form of discrimination.- LA Times Opinion Piece on Hate Speech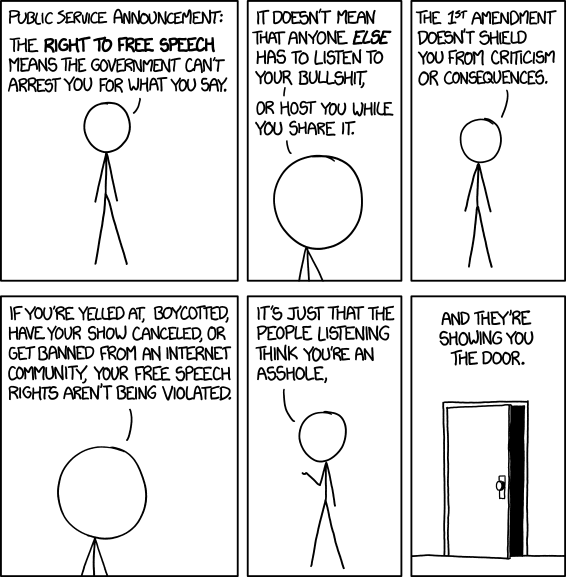 One is censorship, but what we have seen time and time again this year regarding offensive books is not. It is, I believe, free speech and consumer activism. I'm not entirely sure I didn't just make up the term consumer activism, but if it's not a real term I claim copyright. (Edit: Heather Booth assures me consumer activism is a real thing. Darn.)
"One answer is that the First Amendment creates a marketplace of ideas in which everyone can participate. Everyone can try to sell his or her ideas to the marketplace and the buyers in the marketplace eventually decide which ideas have value and which do not, which ideas are truthful and which are not. We are all sellers and buyers in this marketplace." – Know Your Constitution 5: Free Speech and Hate Speech
So let's add parental rights into the mix, shall we.
In Illinois, a parent is asking for removal of a book for all kids because she objects to its sexual content. This is different. One, she is not imploring the content creator – the author or the publisher – to reconsider their actions or their book. She is asking an already published book by a third party content creator to be removed from access for all people because she objects to it. The problem here is that she is involving an innocent group of people that she has no right to influence or control – in this case other minors that are not her children – in her personal protest. She should direct her issues and concerns with the content creators and ask them to respond, or not, to her concerns. What she doesn't have the right to do is make those types of decisions about access to available material for children who are not her own. I get to decide for my children, she gets to decide for hers. Though to be honest in reporting, in this case her "child" appears to be 18-years-old, a legal adult who can go see rated R movies and buy porn online.
It seems like splitting hairs, but it's not. They really and truly are two distinctly different situations.
Abrams could have said nope, we're going to publish the book any way. And then consumers would decide on an individual basis if they would support it by reading/purchasing it on their own. They, as the content creators, have the right to decide or not whether to respond to direct criticism of their work.
SCROLL TO KEEP READING THIS POST
Criticism is not censorship. Boycotts are not censorship. Both are protected free speech. If you as a content creator or publisher voluntarily decide to pull a book because you are receiving intense criticism, that is not censorship, though it is commonly considered a good business practice.
The flip side to all of this is that of course words have meaning. If you are in the writing, publishing, teaching or librarian profession and you don't believe this, then you are probably in the wrong business. We know from study after study after study that reading can increase intelligence, compassion and stronger world views. So of course representation matters. It matters if we continue to portray people of color as savages in tale after tale; of course that feeds into the cultural narrative that has people chanting build that wall and Muslims are terrorists (For more context, Justina Ireland discusses The Continent, Carve the Mark and the dark skinned savage trope here). We keep telling them this with our art. And that's why marginalized groups keep speaking out and challenging the tropes and asking us to do better. Words matter.
I will fight with all that I have to stand up against censorship, especially when it comes to having books pulled out of libraries. I feel like that is a professional responsibility. But I also support the rights of individuals to criticize and boycott and call on content creators to write better books. I'm complex that way.
Finally, and perhaps most important, think about how the marketplace of ideas functions: even if hateful ideas are communicated, the theory (hope?) is that counter-speech will emerge to rebut it and to fight it. In other words, more speech rather than less is the remedy. – Know Your Constitution 5: Free Speech and Hate Speech
When readers speak out against what is published and challenge the publishers/creators to cease publication, that's what they are doing – being the counter-speech trying to fight the hate speech.
Note: This post was edited to fix a couple of typos and to add a couple of clarifying points on 12/07/16, including the two quotes from Know Your Constitituion.
Filed under: Censorship, Things I Never Learned in Library School
About Karen Jensen, MLS
Karen Jensen has been a Teen Services Librarian for almost 30 years. She created TLT in 2011 and is the co-editor of The Whole Library Handbook: Teen Services with Heather Booth (ALA Editions, 2014).