2021 YA Books To Have On Your Radar (part one)
Have you looked at what's coming up in 2021? So many excellent books!
This list is heavy on the contemporary fiction. It's what I like best. I'm not saying there are no good fantasy or sci-fi or whatever books—this is just my personal list of anticipated reads. I scrolled through various lists for a looong time and eventually decided I had to stop adding things to my list and seeking out more information. I'm sure I missed plenty of things that I, personally, would be very excited about. Thank goodness the internet and publishers will make sure I don't overlook great books as release dates get closer! I will have to do another list in a few months, as this list is filled with books from only the first half of the year.
Hop in the comments or catch me on Twitter @CiteSomething and tell me what you are excited to read in 2021!
All descriptions from the publishers or Goodreads summaries.
The Awakening of Malcolm X: A Novel by Ilyasah Shabazz, Tiffany D. Jackson (ISBN-13: 9780374313296 Publisher: Farrar, Straus and Giroux Publication date: 01/05/2021, Ages 12-18)
The Awakening of Malcolm X is a powerful narrative account of the activist's adolescent years in jail, written by his daughter Ilyasah Shabazz along with 2019 Coretta Scott King-John Steptoe award-winning author, Tiffany D. Jackson.
SCROLL TO KEEP READING THIS POST
No one can be at peace until he has his freedom.
In Charlestown Prison, Malcolm Little struggles with the weight of his past. Plagued by nightmares, Malcolm drifts through days, unsure of his future. Slowly, he befriends other prisoners and writes to his family. He reads all the books in the prison library, joins the debate team and the Nation of Islam. Malcolm grapples with race, politics, religion, and justice in the 1940s. And as his time in jail comes to an end, he begins to awaken — emerging from prison more than just Malcolm Little: Now, he is Malcolm X.
Here is an intimate look at Malcolm X's young adult years. While this book chronologically follows X: A Novel, it can be read as a stand-alone historical novel that invites larger discussions on black power, prison reform, and civil rights.
The Meet-Cute Project by Rhiannon Richardson (ISBN-13: 9781534473522 Publisher: Simon & Schuster Books For Young Readers Publication date: 01/12/2021, Ages 12-18)
To All the Boys I've Loved Before meets Save the Date in this sweet, hijinks-filled rom-com about a teen girl who will do whatever it takes to find a date for her sister's wedding.
Mia's friends love rom-coms. Mia hates them. They're silly, contrived, and not at all realistic. Besides, there are more important things to worry about—like how to handle living with her bridezilla sister, Sam, who's never appreciated Mia, and surviving junior year juggling every school club offered and acing all of her classes.
So when Mia is tasked with finding a date to her sister's wedding, her options are practically nonexistent.
Mia's friends, however, have an idea. It's a little crazy, a little out there, and a lot inspired by the movies they love that Mia begrudgingly watches too.
Mia just needs a meet-cute.
Concrete Rose by Angie Thomas (ISBN-13: 9780062846716 Publisher: HarperCollins Publishers Publication date: 01/12/2021, Ages 14-17)
International phenomenon Angie Thomas revisits Garden Heights seventeen years before the events of The Hate U Give in this searing and poignant exploration of Black boyhood and manhood.
If there's one thing seventeen-year-old Maverick Carter knows, it's that a real man takes care of his family. As the son of a former gang legend, Mav does that the only way he knows how: dealing for the King Lords. With this money he can help his mom, who works two jobs while his dad's in prison.
Life's not perfect, but with a fly girlfriend and a cousin who always has his back, Mav's got everything under control.
Until, that is, Maverick finds out he's a father.
Suddenly he has a baby, Seven, who depends on him for everything. But it's not so easy to sling dope, finish school, and raise a child. So when he's offered the chance to go straight, he takes it. In a world where he's expected to amount to nothing, maybe Mav can prove he's different.
When King Lord blood runs through your veins, though, you can't just walk away. Loyalty, revenge, and responsibility threaten to tear Mav apart, especially after the brutal murder of a loved one. He'll have to figure out for himself what it really means to be a man.
Angel of Greenwood by Randi Pink (ISBN-13: 9781250768476 Publisher: Feiwel & Friends Publication date: 01/12/2021, Ages 12-17)
Randi Pink's The Angel of Greenwood is a historical YA novel that takes place during the Greenwood Massacre of 1921, in an area of Tulsa, OK, known as the "Black Wall Street."…
Seventeen-year-old Isaiah Wilson is, on the surface, a town troublemaker, but is hiding that he is an avid reader and secret poet, never leaving home without his journal. A passionate follower of W.E.B. Du Bois, he believes that black people should rise up to claim their place as equals.
Sixteen-year-old Angel Hill is a loner, mostly disregarded by her peers as a goody-goody. Her father is dying, and her family's financial situation is in turmoil. Also, as a loyal follower of Booker T. Washington, she believes, through education and tolerance, that black people should rise slowly and without forced conflict.
Though they've attended the same schools, Isaiah never noticed Angel as anything but a dorky, Bible toting church girl. Then their English teacher offers them a job on her mobile library, a three-wheel, two-seater bike. Angel can't turn down the money and Isaiah is soon eager to be in such close quarters with Angel every afternoon.
But life changes on May 31, 1921 when a vicious white mob storms the community of Greenwood, leaving the town destroyed and thousands of residents displaced. Only then, Isaiah, Angel, and their peers realize who their real enemies are.
Winterkeep by Kristin Cashore (ISBN-13: 9780803741508 Publisher: Penguin Young Readers Group Publication date: 01/19/2021 Series: Graceling Realm Series, Ages 14-17)
The highly anticipated next book in the New York Times bestselling, award-winning Graceling Realm series, which has sold 1.3 million copies.
For the past five years, Bitterblue has reigned as Queen of Monsea, heroically rebuilding her nation after her father's horrific rule. After learning about the land of Torla in the east, she sends envoys to the closest nation there: Winterkeep—a place where telepathic foxes bond with humans, and people fly across the sky in wondrous airships. But when the envoys never return, having drowned under suspicious circumstances, Bitterblue sets off for Winterkeep herself, along with her spy Hava and her trusted colleague Giddon. On the way, tragedy strikes again—a tragedy with devastating political and personal ramifications.
Meanwhile, in Winterkeep, Lovisa Cavenda waits and watches, a fire inside her that is always hungry. The teenage daughter of two powerful politicians, she is the key to unlocking everything—but only if she's willing to transcend the person she's been all her life.
This Will Be Funny Someday by Katie Henry (ISBN-13: 9780062955708 Publisher: HarperCollins Publishers Publication date: 01/19/2021, Ages 13+)
The Marvelous Mrs. Maisel comes to high school in acclaimed author Katie Henry's coming-of-age YA contemporary about a girl who accidentally falls into the world of stand-up comedy. Perfect for fans of John Green and Becky Albertalli!
Sixteen-year-old Izzy is used to keeping her thoughts to herself—in school, where her boyfriend does the talking for her, and at home, where it's impossible to compete with her older siblings and high-powered parents.
When she mistakenly walks into a stand-up comedy club and performs, the experience is surprisingly cathartic. After the show, she meets Mo, an aspiring comic who's everything Izzy's not: bold, confident, comfortable in her skin. Mo invites Izzy to join her group of friends and introduces her to the Chicago open mic scene.
The only problem? Her new friends are college students—and Izzy tells them she's one, too. Now Izzy, the dutiful daughter and model student, is sneaking out to perform stand-up with her comedy friends. Her controlling boyfriend is getting suspicious, and her former best friend knows there's something going on.
But Izzy loves comedy and this newfound freedom. As her two parallel lives collide—in the most hilarious of ways—Izzy must choose to either hide what she really wants and who she really is, or finally, truly stand up for herself.
A Pho Love Story by Loan Le (ISBN-13: 9781534441934 Publisher: Simon & Schuster Books For Young Readers Publication date: 02/09/2021, Ages 12-18)
When Dimple Met Rishi meets Ugly Delicious in this funny, smart romantic comedy, in which two Vietnamese-American teens fall in love and must navigate their newfound relationship amid their families' age-old feud about their competing, neighboring restaurants.
If Bao Nguyen had to describe himself, he'd say he was a rock. Steady and strong, but not particularly interesting. His grades are average, his social status unremarkable. He works at his parents' pho restaurant, and even there, he is his parents' fifth favorite employee. Not ideal.
If Linh Mai had to describe herself, she'd say she was a firecracker. Stable when unlit, but full of potential for joy and fire. She loves art and dreams pursuing a career in it. The only problem? Her parents rely on her in ways they're not willing to admit, including working practically full-time at her family's pho restaurant.
For years, the Mais and the Nguyens have been at odds, having owned competing, neighboring pho restaurants. Bao and Linh, who've avoided each other for most of their lives, both suspect that the feud stems from feelings much deeper than friendly competition.
But then a chance encounter brings Linh and Bao in the same vicinity despite their best efforts and sparks fly, leading them both to wonder what took so long for them to connect. But then, of course, they immediately remember.
Can Linh and Bao find love in the midst of feuding families and complicated histories?
We Are the Ashes, We Are the Fire by Joy McCullough (ISBN-13: 9780525556053 Publisher: Penguin Young Readers Group Publication date: 02/09/2021, Ages 14-17)
From the author of the acclaimed Blood Water Paint, a new contemporary YA novel in prose and verse about a girl struggling with guilt and a desire for revenge after her sister's rapist escapes with no prison time.
Em Morales's older sister was raped by another student after a frat party. A jury eventually found the rapist guilty on all counts—a remarkable verdict that Em felt more than a little responsible for, since she was her sister's strongest advocate on social media during the trial. Her passion and outspokenness helped dissuade the DA from settling for a plea deal. Em's family would have real justice.
But the victory is short-lived. In a matter of minutes, justice vanishes as the judge turns the Morales family's world upside down again by sentencing the rapist to no prison time. While her family is stunned, Em is literally sick with rage and guilt. To make matters worse, a news clip of her saying that the sentence makes her want to learn "how to use a sword" goes viral.
From this low point, Em must find a new reason to go on and help her family heal, and she finds it in the unlikely form of the story of a fifteenth-century French noblewoman, Marguerite de Bressieux, who is legendary as an avenging knight for rape victims.
We Are the Ashes, We Are the Fire is a searing and nuanced portrait of a young woman torn between a persistent desire for revenge and a burning need for hope.
Like Home by Louisa Onome (ISBN-13: 9780593172599 Publisher: Random House Children's Books Publication date: 02/23/2021, Ages 12-17)
Fans of Netflix's On My Block and readers of Elizabeth Acevedo and Angie Thomas will love this debut novel about a girl whose life is turned upside down after one local act of vandalism throws both her relationships and neighborhood into turmoil.
Chinelo, or Nelo as her best friend Kate calls her, is all about her neighborhood Ginger East. She loves its chill vibe, ride-or-die sense of community, and the memories she has growing up there with her friends. Ginger East isn't what it used to be though. After a deadly incident at the local arcade, most of her friends' families moved away. Kate, whose family owns the local corner store, is still there and as long as that stays constant, Nelo's good.
When Kate's parent's store is vandalized and the vandal still at large, Nelo is shaken to her core. And then the police and the media get involved and more of the outside world descends upon Ginger East with promises to "fix the neighborhood." Suddenly, Nelo finds herself in the middle of a drama unfolding on a national scale.
Worse yet, Kate is acting strange. She's pushing Nelo away at the exact moment they need each other most. Now Nelo's entire world is morphing into something she hates and she must figure out how to get things back on track or risk losing everything—and everyone—she loves.
Love Is For Losers by Wibke Brueggeman (ISBN-13: 9780374313975 Publisher: Farrar, Straus and Giroux Publication date: 02/23/2021, Ages 14-18)
This is a laugh-out-loud exploration of sexuality, family, female friendship, grief, and community. With the heart and hilarity of Netflix's critically-acclaimed Sex Education, Wibke Brueggemann's sex positive debut Love Is for Losers is required reading for Generation Z teens.
Did you know you can marry yourself? How strange / brilliant is that?
Fifteen-year-old Phoebe thinks falling in love is vile and degrading, and vows never to do it. Then, due to circumstances not entirely in her control, she finds herself volunteering at a local thrift shop. There she meets Emma . . . who might unwittingly upend her whole theory on life.
Once Upon a Quinceañera by Monica Gomez-Hira (ISBN-13: 9780062996831 Publisher: HarperCollins Publishers Publication date: 03/02/2021, Ages 13-17)
Perfect for fans of Jenny Han and Jane the Virgin, this immediately accessible and irresistibly fun #ownvoices rom-com debut will spin readers into an unforgettable summer of late-night dancing, broken hearts, second chances, and telenovela twists.
Carmen Aguilar just wants to make her happily ever after come true. Except apparently "happily ever after" for Carmen involves being stuck in an unpaid summer internship. Now she has to perform as a party princess! In a ball gown. During the summer. In Miami.
Fine. Except that's only the first misfortune in what's turning out to a summer of Utter Disaster.
But if Carmen can manage dancing in the blistering heat, fending off an oh-so-unfortunately attractive ex, and stopping her spoiled cousin from ruining her own quinceañera—Carmen might just get that happily ever after—after all.
The Cost of Knowing by Brittney Morris (ISBN-13: 9781534445451 Publisher: Simon & Schuster Books For Young Readers Publication date: 03/16/2021, Ages 12-18)
Dear Martin meets They Both Die at the End in this gripping, evocative novel about a Black teen who has the power to see into the future, whose life turns upside down when he foresees his younger brother's imminent death, from the acclaimed author of SLAY.
Sixteen-year-old Alex Rufus is trying his best. He tries to be the best employee he can be at the local ice cream shop; the best boyfriend he can be to his amazing girlfriend, Talia; the best protector he can be over his little brother, Isaiah. But as much as Alex tries, he often comes up short.
It's hard to for him to be present when every time he touches an object or person, Alex sees into its future. When he touches a scoop, he has a vision of him using it to scoop ice cream. When he touches his car, he sees it years from now, totaled and underwater. When he touches Talia, he sees them at the precipice of breaking up, and that terrifies him. Alex feels these visions are a curse, distracting him, making him anxious and unable to live an ordinary life.
And when Alex touches a photo that gives him a vision of his brother's imminent death, everything changes.
With Alex now in a race against time, death, and circumstances, he and Isaiah must grapple with their past, their future, and what it means to be a young Black man in America in the present.
That Way Madness Lies: Fifteen of Shakespeare's Most Notable Works Reimagined edited by Dahlia Adler (ISBN-13: 9781250753861 Publisher: Flatiron Books Publication date: 03/16/2021, Ages 12-18)
In That Way Madness Lies, fifteen acclaimed YA writers put their modern spin on William Shakespeare's celebrated classics!
West Side Story. 10 Things I Hate About You. Kiss Me, Kate. Contemporary audiences have always craved reimaginings of Shakespeare's most beloved works. Now, some of today's best writers for teens take on the Bard in these 15 whip-smart and original retellings!
Contributors include Dahlia Adler (reimagining The Merchant of Venice), Kayla Ancrum (The Taming of the Shrew), Lily Anderson (All's Well That Ends Well), Melissa Bashardoust (A Winter's Tale), Patrice Caldwell (Hamlet), Amy Rose Capetta and Cori McCarthy (Much Ado About Nothing), Brittany Cavallaro (Sonnet 147), Joy McCullough (King Lear), Anna-Marie McLemore (Midsummer Night's Dream), Samantha Mabry (Macbeth), Tochi Onyebuchi (Coriolanus), Mark Oshiro (Twelfth Night), Lindsay Smith (Julius Caesar), Kiersten White (Romeo and Juliet), and Emily Wibberley and Austin Siegemund-Broka (The Tempest).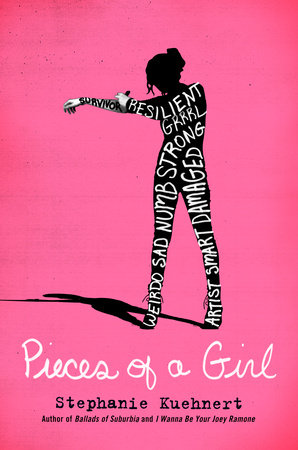 Pieces of a Girl by Stephanie Kuehnert (ISBN-13: 9780525429753 Publisher: Penguin Young Readers Group Publication date: 03/30/2021, ages 14-17)
A raw and bold memoir about abuse and addiction, and the power of expression and community that helped Stephanie Kuehnert, the author of Ballads of Suburbia and regular Rookie contributor, survive and thrive. Told in varied narrative styles, including journal entries, original illustration, and pages torn from her actual diaries and zines, this is the memoir of Stephanie's life as a struggling outsider who survived substance and relationship abuse to become a strong young woman after years and years trapped in a cycle that sometimes seemed to have no escape.
Between Perfect and Real by Ray Stoeve (ISBN-13: 9781419746017 Publisher: Amulet Books Publication date: 04/13/2021, Ages 12-18)
A moving YA debut about a trans boy finding his voice—and himself
Dean Foster knows he's a trans guy. He's watched enough YouTube videos and done enough questioning to be sure. But everyone at his high school thinks he's a lesbian—including his girlfriend Zoe, and his theater director, who just cast him as a "nontraditional" Romeo. He wonders if maybe it would be easier to wait until college to come out. But as he plays Romeo every day in rehearsals, Dean realizes he wants everyone to see him as he really is now––not just on the stage, but everywhere in his life. Dean knows what he needs to do. Can playing a role help Dean be his true self?
Sure, I'll Be Your Black Friend: Notes from the Other Side of the Fist Bump by Ben Philippe (ISBN-13: 9780063065062 Publisher: HarperCollins Publishers Publication date: 04/27/2021, Adult nonfiction but YA appeal/YA author)
In the biting, hilarious vein of What Doesn't Kill You Makes You Blacker and We Are Never Meeting in Real Life comes Ben Philippe's candid memoir-in-essays, chronicling a lifetime of being the Black friend (see also: foreign kid, boyfriend, coworker, student, teacher, roommate, enemy) in predominantly white spaces.
In an era in which "I have many black friends" is often a medal of Wokeness, Ben hilariously chronicles the experience of being on the receiving end of those fist bumps. He takes us through his immigrant childhood, from wanting nothing more than friends to sit with at lunch, to his awkward teenage years, to college in the age of Obama, and adulthood in the Trump administration—two sides of the same American coin.
Ben takes his role as your new black friend seriously, providing original and borrowed wisdom on stereotypes, slurs, the whole "swimming thing," how much Beyoncé is too much Beyoncé, Black Girl Magic, the rise of the Karens, affirmative action, the Black Lives Matter movement, and other conversations you might want to have with your new BBFF.
Oscillating between the impulse to be "one of the good ones" and the occasional need to excuse himself to the restrooms, stuff his mouth with toilet paper, and scream, Ben navigates his own Blackness as an "Oreo" with too many opinions for his father's liking, an encyclopedic knowledge of CW teen dramas, and a mouth he can't always control.
From cheating his way out of swim tests to discovering stray family members in unlikely places, he finds the punchline in the serious while acknowledging the blunt truths of existing as a Black man in today's world.
Extremely timely, Sure, I'll Be Your Black Friend is a conversational take on topics both light and heavy, universal and deeply personal, which reveals incisive truths about the need for connection in all of us.
Excuse Me While I Ugly Cry by Joya Goffney (ISBN-13: 9780063024793 Publisher: HarperCollins Publishers Publication date: 05/04/2021, Ages 13+)
Excuse Me While I Ugly Cry by debut author Joya Goffney is an own voices story of an overly enthusiastic list maker who is blackmailed into completing a to-do list of all her worst fears. It's a heartfelt, tortured, contemporary YA high school romance. Fans of Jenny Han's To All the Boys I've Loved Before and Kristina Forest's I Wanna Be Where You Are will love the juicy secrets and leap-off-the-page sexual tension.
Quinn keeps lists of everything—from the days she's ugly cried, to "Things That I Would Never Admit Out Loud" and all the boys she'd like to kiss. Her lists keep her sane. By writing her fears on paper, she never has to face them in real life. That is, until her journal goes missing . . .
Then an anonymous account posts one of her lists on Instagram for the whole school to see and blackmails her into facing seven of her greatest fears, or else her entire journal will go public. Quinn doesn't know who to trust. Desperate, she teams up with Carter Bennett—the last known person to have her journal—in a race against time to track down the blackmailer.
Together, they journey through everything Quinn's been too afraid to face, and along the way, Quinn finds the courage to be honest, to live in the moment, and to fall in love.
Up All Night: 13 Stories between Sunset and Sunrise edited by Laura Silverman (ISBN-13: 978-1643750415 Publisher: Algonquin Young Readers Publication date: 07/13/2021, Ages 13-17)
When everyone else goes to bed, the ones who stay up feel like they're the only people in the world. As the hours tick by deeper into the night, the familiar drops away and the unfamiliar beckons. Adults are asleep, and a hush falls over the hum of daily life. Anything is possible.
It's a time for romance and adventure. For prom night and ghost hunts. It's a time for breaking up, for falling in love—for finding yourself.
Stay up all night with these thirteen short stories from bestselling and award-winning YA authors like Karen McManus, Tiffany D. Jackson, Nina LaCour, and Brandy Colbert, as they take readers deep into these rarely seen, magical hours.
Full contributor list: Brandy Colbert, Kathleen Glasgow, Maurene Goo, Tiffany D. Jackson, Amanda Joy, Nina LaCour, Karen M. McManus, Anna Meriano, Marieke Nijkamp, Laura Silverman, Kayla Whaley, Julian Winters, Francesca Zappia
Filed under: Uncategorized
About Amanda MacGregor
Amanda MacGregor works in an elementary library, loves dogs, and can be found on Twitter @CiteSomething.