Book Mail: New books from David Yoon, Kristin Cashore, Malinda Lo, and more
Physical book mail has been trickling in here and I'm still working on my commitment to read more digital ARCs. I don't know why it's so hard to for me to think about switching to mainly reading this way (which is what it seems like I will need to do if I want to be reading books ahead of their publication dates), but it's definitely my 2021 personal project. This post includes a few books I only have as digital copies, so I guess they're maybe not technically "book mail," but creating a post called "book mail and digital files" seems like a big bummer. Anyway. Here's what has shown up here, in some form or another, and what's now in my TBR.
All summaries from the publisher.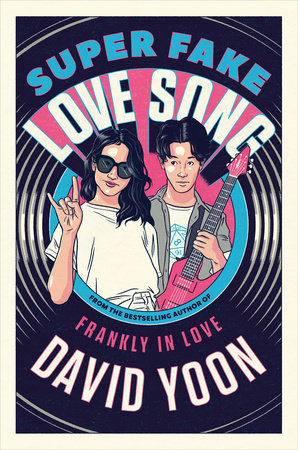 Super Fake Love Song by David Yoon (ISBN-13: 9781984812230 Publisher: Penguin Young Readers Group Publication date: 11/17/2020, Ages 14-17)
From the New York Times bestselling author of Frankly in Love comes a sweet contemporary YA rom-com where a case of mistaken identity kicks off a string of (fake) events that just may lead to (real) love.
SCROLL TO KEEP READING THIS POST
When Sunny Dae—self-proclaimed total nerd—meets Cirrus Soh, he can't believe how cool and confident she is. So when Cirrus mistakes Sunny's older brother Gray's bedroom—with its electric guitars and rock posters—for Sunny's own, he sort of, kind of, accidentally winds up telling her he's the front man of a rock band.
Before he knows it, Sunny is knee-deep in the lie: He ropes his best friends into his scheme, begging them to form a fake band with him, and starts wearing Gray's rock-and-roll castoffs. But no way can he trick this amazing girl into thinking he's cool, right? Just when Sunny is about to come clean, Cirrus asks to see them play sometime. Gulp.
Now there's only one thing to do: Fake it till you make it.
From New York Times bestselling author David Yoon comes an inventive new romantic comedy about identity, perception, and how hard it can feel sometimes to simply be yourself.
Never After: The Thirteenth Fairy by Melissa de la Cruz (ISBN-13: 9781250311214 Publisher: Roaring Brook Press Publication date: 12/01/2020 Series: The Chronicles of Never After , #1, Ages 10-14)
Real life and fairy tales collide in Never After: The Thirteenth Fairy, book one in the new middle-grade Never After series from the #1 New York Timesbestselling author of The Descendants series, Melissa de la Cruz.
Nothing ever happens in Filomena Jefferson-Cho's sleepy little suburban town of North Pasadena. The sun shines every day, the grass is always a perfect green, and while her progressive school swears there's no such thing as bullying, she still feels bummed out. But one day, when Filomena is walking home on her own, something strange happens.
Filomena is being followed by Jack Stalker, one of the heroes in the Thirteenth Fairy, a series of books she loves about a brave girl and her ragtag group of friends who save their world from an evil enchantress. She must be dreaming, or still reading a book. But Jack is insistent—he's real, the stories are real, and Filomena must come with him at once!
Soon, Filomena is thrust into the world of evil fairies and beautiful princesses, sorcerers and slayers, where an evil queen drives her ruthless armies to destroy what is left of the Fairy tribes. To save herself and the kingdom of Westphalia, Filomena must find the truth behind the fairytales and set the world back to rights before the cycle of sleep and destruction begins once more.
Black Canary: Breaking Silence by Alexandra Monir (ISBN-13: 9780593178317 Publisher: Random House Children's Books Publication date: 12/29/2020 Series: DC Icons Series, Ages 12-17)
In this thrilling origin story of Black Canary, Dinah Lance's voice is her weapon. And in a near-future world where women have no rights, she won't hesitate to use everything she has—including her song—to fight back.
Dinah Lance was eight years old when she overheard the impossible: the sound of a girl singing. It was something she was never meant to hear—not in her lifetime and not in Gotham City, taken over by the vicious, patriarchal Court of Owls. The sinister organization rules Gotham City as a dictatorship and has stripped women of everything—their right to work, to make music, to learn, to be free.
Now seventeen, Dinah can't forget that haunting sound, and she's beginning to discover that her own voice is just as powerful. But singing is forbidden—a one-way route to a certain death sentence. Fighting to balance her father's desire to keep her safe, a blossoming romance with mysterious new student Oliver Queen, and her own need to help other women and girls rise up, Dinah wonders if her song will finally be heard. And will her voice be powerful enough to destroy the Court of Owls once and for all?
Winterkeep by Kristin Cashore (ISBN-13: 9780803741508 Publisher: Penguin Young Readers Group Publication date: 01/19/2021 Series: Graceling Realm Series, Ages 14-17)
The highly anticipated next book in the New York Times bestselling, award-winning Graceling Realm series, which has sold 1.3 million copies.
For the past five years, Bitterblue has reigned as Queen of Monsea, heroically rebuilding her nation after her father's horrific rule. After learning about the land of Torla in the east, she sends envoys to the closest nation there: Winterkeep—a place where telepathic foxes bond with humans, and people fly across the sky in wondrous airships. But when the envoys never return, having drowned under suspicious circumstances, Bitterblue sets off for Winterkeep herself, along with her spy Hava and her trusted colleague Giddon. On the way, tragedy strikes again—a tragedy with devastating political and personal ramifications.
Meanwhile, in Winterkeep, Lovisa Cavenda waits and watches, a fire inside her that is always hungry. The teenage daughter of two powerful politicians, she is the key to unlocking everything—but only if she's willing to transcend the person she's been all her life.
Wider than the Sky by Katherine Rothschild (ISBN-13: 9781641291132 Publisher: Soho Press, Incorporated Publication date: 01/19/2021, Ages 14-17)
In the wake of sudden tragedy, twin sisters uncover a secret that rips open their world. Katherine Rothschild explores the pain and power of forgiveness in a stunning debut novel that will shatter your heart and piece it back together, one truth at a time.
Sixteen-year-old Sabine Braxton doesn't have much in common with her identical twin, Blythe. When their father dies from an unexpected illness, each copes with the loss in her own way—Sabine by "poeting" (an uncontrollable quirk of bursting into poetry at inappropriate moments) and Blythe by obsessing over getting into MIT, their father's alma mater. Neither can offer each other much support . . . at least not until their emotionally detached mother moves them into a ramshackle Bay Area mansion owned by a stranger named Charlie.
Soon, the sisters unite in a mission to figure out who Charlie is and why he seems to know everything about them. They quickly make a life-changing discovery: their father died of an HIV- related infection, Charlie was his lover, and their mother knows the whole story. The revelation unravels Sabine's world, while practical Blythe seems to take everything in stride. Once again at odds with her sister, Sabine chooses to learn all she can about the father she never knew. Ultimately, she must decide if she can embrace his last wish for
Last Night at the Telegraph Club by Malinda Lo (ISBN-13: 9780525555254 Publisher: Penguin Young Readers Group Publication date: 01/19/2021, Ages 14-17)
Acclaimed author of Ash Malinda Lo returns with her most personal and ambitious novel yet, a gripping story of love and duty set in San Francisco's Chinatown during the 1950s.
"That book. It was about two women, and they fell in love with each other." And then Lily asked the question that had taken root in her, that was even now unfurling its leaves and demanding to be shown the sun: "Have you ever heard of such a thing?"
Seventeen-year-old Lily Hu can't remember exactly when the question took root, but the answer was in full bloom the moment she and Kathleen Miller walked under the flashing neon sign of a lesbian bar called the Telegraph Club.
America in 1954 is not a safe place for two girls to fall in love, especially not in Chinatown. Red-Scare paranoia threatens everyone, including Chinese Americans like Lily. With deportation looming over her father—despite his hard-won citizenship—Lily and Kath risk everything to let their love see the light of day.
Tell Me My Name by Amy Reed (ISBN-13: 9780593109724 Publisher: Penguin Young Readers Group Publication date: 03/09/2021, Ages 14-17)
We Were Liars meets Speak in this haunting, mesmerizing psychological thriller—a gender-flipped YA Great Gatsby—that will linger long after the final line
On wealthy Commodore Island, Fern is watching and waiting—for summer, for college, for her childhood best friend to decide he loves her. Then Ivy Avila lands on the island like a falling star. When Ivy shines on her, Fern feels seen. When they're together, Fern has purpose. She glimpses the secrets Ivy hides behind her fame, her fortune, the lavish parties she throws at her great glass house, and understands that Ivy hurts in ways Fern can't fathom. And soon, it's clear Ivy wants someone Fern can help her get. But as the two pull closer, Fern's cozy life on Commodore unravels: drought descends, fires burn, and a reckless night spins out of control. Everything Fern thought she understood—about her home, herself, the boy she loved, about Ivy Avila—twists and bends into something new. And Fern won't emerge the same person she was.
An enthralling, mind-altering psychological thriller, Tell Me My Name is about the cost of being a girl in a world that takes so much, and the enormity of what is regained when we take it back.
Bones of a Saint by Grant Farley (ISBN-13: 9781641291170 Publisher: Soho Press, Incorporated Publication date: 03/16/2021, Ages 14-17)
Set in Northern California in the late '70s, this timeless coming-of-age story examines the nature of evil, the art of storytelling, and the possibility of redemption.
Fifteen-year-old RJ Armante has never known a life outside his dead-end hometown of Arcangel, CA. The Blackjacks rule as they have for generations, luring the poorest kids into their monopoly on petty crime. For years, they've left RJ alone, but now they have a job for him: prey upon an old loner in town.

In spite of the danger, RJ begins to resist. He fights not only for himself, but for Charley, his younger brother, who is disabled. For Roxanne, the girl he can't reach, and the kids in his crew who have nothing to live for. Even for the old loner, who has secrets of his own. If RJ is to break from the Blackjacks' hold, all of Arcangel must be free of its past.
Kisses and Croissants by Anne-Sophie Jouhanneau (ISBN-13: 9780593173572 Publisher: Random House Children's Books Publication date: 04/06/2021, Ages 13-17)
As sweet as a macaron from Laduree, with writing as crisp as a freshly baked baguette, this romantic novel set in Paris about an American ballerina and a charming French boy is parfait for fans of American Royals and Netflix's To All the Boys I've Loved Before.
Sixteen-year-old Mia, an American girl at an elite summer ballet program, has six weeks to achieve her dreams: to snag an audition with one of the world's best ballet companies. But there's more to Paris than ballet—especially when a charming French boy, Louis, wants to be her tour guide—and the pair discover the city has a few mysteries up its sleeve.
In the vein of romances like Love and Gelato, this is the perfect summer adventure for anyone looking to get swept away in the City of Love.
Kate in Waiting by Becky Albertalli (ISBN-13: 9780063073920 Publisher: HarperCollins Publishers Publication date: 04/20/2021, Ages 14+)
From #1 New York Times bestselling author and rom-com queen Becky Albertalli comes a buoyant new novel about daring to step out of the shadows and into the spotlight in love, life, and, yes, theater.
SCROLL TO KEEP READING THIS POST
Contrary to popular belief, best friends Kate Garfield and Anderson Walker are not codependent. Carpooling to and from theater rehearsals? Environmentally sound and efficient. Consulting each other on every single life decision? Basic good judgment. Pining for the same guys from afar? Shared crushes are more fun anyway.
But when Kate and Andy's latest long-distance crush shows up at their school, everything goes off-script. Matt Olsson is talented and sweet, and Kate likes him. She really likes him. The only problem? So does Anderson.
Turns out, communal crushes aren't so fun when real feelings are involved. This one might even bring the curtains down on Kate and Anderson's friendship.
Some Girls Do by Jennifer Dugan (ISBN-13: 9780593112533 Publisher: Penguin Young Readers Group Publication date: 05/18/2021, Ages 12-17)
In this YA contemporary queer romance from the author of Hot Dog Girl, an openly gay track star falls for a closeted, bisexual teen beauty queen with a penchant for fixing up old cars.
Morgan, an elite track athlete, is forced to transfer high schools late in her senior year after it turns out being queer is against her private Catholic school's code of conduct. There, she meets Ruby, who has two hobbies: tinkering with her baby blue 1970 Ford Torino and competing in local beauty pageants, the latter to live out the dreams of her overbearing mother. The two are drawn to each other and can't deny their growing feelings. But while Morgan—out and proud, and determined to have a fresh start—doesn't want to have to keep their budding relationship a secret, Ruby isn't ready to come out yet. With each girl on a different path toward living her truth, can they go the distance together?
Filed under: Uncategorized
About Amanda MacGregor
Amanda MacGregor works in an elementary library, loves dogs, and can be found on Twitter @CiteSomething.