Book Mail: New and forthcoming titles for all ages
Book mail is still arriving here at the Minnesota branch of TLT, just not in the same quantity as it used to, pre-pandemic. One of my 2021 goals is to try to switch more of my reading to digital, which is not my preferred way but is clearly what needs to be done if I'm going to keep up with forthcoming books. As always, I'm grateful for all the publishers who send so much good book mail my way. Everything I get goes back out the door in some fashion. If you follow me on Twitter (@CiteSomething), you see all the giveaways I do there. Be on the lookout for more soon!
All descriptions from the publishers.
The Body Image Book for Girls: Love Yourself and Grow Up Fearless by Charlotte Markey (ISBN-13: 9781108718776 Publisher: Cambridge University Press Publication date: 09/10/2020, Ages 12-17)
It is worrying to think that most girls feel dissatisfied with their bodies, and that this can lead to serious problems including depression and eating disorders. Can some of those body image worries be eased? Body image expert and psychology professor Dr. Charlotte Markey helps girls aged 9-15 to understand, accept, and appreciate their bodies. She provides all the facts on puberty, mental health, self-care, why diets are bad news, dealing with social media, and everything in-between. Girls will find answers to questions they always wanted to ask, the truth behind many body image myths, and real-life stories from girls who share their own experiences. Through this easy-to-read and beautifully illustrated guide, Dr. Markey teaches girls how to nurture both mental and physical heath to improve their own body image, shows the positive impact they can have on others, and enables them to go out into the world feeling fearless!
SCROLL TO KEEP READING THIS POST
Lunch Will Never Be the Same! #1 by Veera Hiranandani, Christine Almeda (Illustrator) (ISBN-13: 9780593096901 Publisher: Penguin Young Readers Group Publication date: 10/06/2020, Ages 6-8)
Written by Newbery Honor-winner Veera Hiranandani, with all-new illustrations by Christine Almeda!
Phoebe G. Green has never given much thought to food, but when a new French classmate enters the cafeteria with a lunchbox full of unusual foods, a new love is born. Spunky and likable, Phoebe is a budding foodie who's sure to win over your heart—and stomach!
Phoebe loves her pet fish, Betty #2 (named after Betty #1, may she rest in peace), making lists, and her best friend Sage. But when Camille, a tall French girl, arrives at school with unusual lunches, Phoebe can't seem to think about anything else, including her friendship with Sage. Thanks to Camille, Phoebe discovers goat cheese, butter lettuce, and cilantro (although she's convinced that's not a real word). She's determined to get invited to her new friend's house for dinner to see what other mysterious food Camille eats. But what about Sage? Can Phoebe make a new friend and keep an old one?
Something Happened to Ali Greenleaf by Hayley Krischer (ISBN-13: 9780593114117 Publisher: Penguin Young Readers Group Publication date: 10/06/2020, Ages 14-17)
Ali Greenleaf and Blythe Jensen couldn't be more different.
Ali is sweet, bitingly funny, and just a little naive. Blythe is beautiful, terrifying, and the most popular girl in school. They've never even talked to each other, until a party when Ali decides she'll finally make her move on Sean Nessel, her longtime crush and the soccer team's superstar. But Sean pushes Ali farther than she wants to go. When she resists—he rapes her.
Blythe sees Ali when she runs from the party, everyone sees her. And Blythe knows something happened with Sean; she knows how he treats girls. Even so, she's his best friend, his confidant. When he tells her it was a misunderstanding, she decides to help him make things right.
So Blythe befriends Ali, bringing her into a circle of ruthless popular girls, and sharing her own dark secrets. Despite the betrayal at the heart of their relationship, they see each other, in a way no one ever has before.
In her searing, empowering debut novel, Hayley Krischer tells the story of what happened that night, and how it shaped Ali and Blythe forever. Both girls are survivors in their own ways, and while their friendship might not be built to last, it's one that empowers each of them to find justice on their own terms.
The Infamous Frankie Lorde 1: Stealing Greenwich by Brittany Geragotelis (ISBN-13: 9781645950264 Publisher: Holiday House Publication date: 10/06/2020, Ages 10-14)
A pre-teen international thief turns over a new leaf (sort of) to right the societal wrongs in her snooty new town in this upper middle grade series starter for fans of Ally Carter's Gallagher Girls and Heist Society, Stuart Gibb's Spy School, and Ocean's 8.
Being the protégé (and daughter) of the man responsible for some of the world's biggest heists has given Frankie Lorde a unique perspective. And a special set of skills. She can spot an FBI agent in a second, pick a lock in two, and steal a Bugatti in three. (Even if she's technically too young to drive it.) Frankie and her dad are a team, and their jobs are the stuff of international awe.
And then Dad is arrested.
Sent to live with her uncle, who she barely knows and who is, ironically, a cop, Frankie is forced to navigate an entirely foreign world: suburbia. She has to go to middle school, learn what kids her age wear and eat and do for fun—and, alas, it doesn't involve lifting expensive watches.
But life in Greenwich, Connecticut, one of the richest towns in America, also opens her eyes to a startling reality, and seeing the stark contrast of the the super-rich and the super-not-rich who support the community living side-by-side gives Frankie an idea. What if she were to put her less-than-legal know-how to good use, turning the tables and evening the score . . .?
Fresh, fun, and timely, Stealing Greenwich introduces a smart, slick young criminal mastermind with a heart of gold who is sure to become a darling for middle grade set.
Closer to Nowhere by Ellen Hopkins (ISBN-13: 9780593108611 Publisher: Penguin Young Readers Group Publication date: 10/06/2020, Ages 10-13)
#1 New York Times bestselling author Ellen Hopkins's poignant middle grade novel in verse about coming to terms with indelible truths of family and belonging.
For the most part, Hannah's life is just how she wants it. She has two supportive parents, she's popular at school, and she's been killing it at gymnastics. But when her cousin Cal moves in with her family, everything changes. Cal tells half-truths and tall tales, pranks Hannah constantly, and seems to be the reason her parents are fighting more and more. Nothing is how it used to be. She knows that Cal went through a lot after his mom died and she is trying to be patient, but most days Hannah just wishes Cal never moved in.
For his part, Cal is trying his hardest to fit in, but not everyone is as appreciative of his unique sense of humor and storytelling gifts as he is. Humor and stories might be his defense mechanism, but if Cal doesn't let his walls down soon, he might push away the very people who are trying their best to love him.
Told in verse from the alternating perspectives of Hannah and Cal, this is a story of two cousins who are more alike than they realize and the family they both want to save.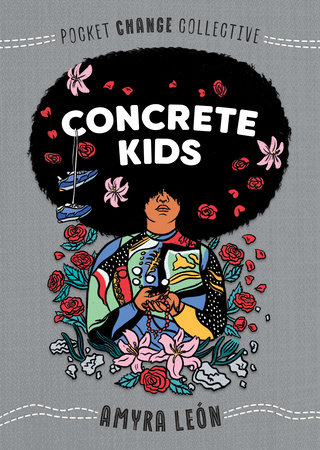 Concrete Kids by Amyra León, Ashley Lukashevsky (Illustrator) (ISBN-13: 9780593095195 Publisher: Penguin Young Readers Group Publication date: 10/13/2020 Series: Pocket Change Collective, Ages 12-17)
In Concrete Kids, playwright, musician, and educator Amyra León uses free verse to challenge us to dream beyond our circumstances — and sometimes even despite them.
Pocket Change Collective is a series of small books with big ideas from today's leading activists and artists.
Concrete Kids is an exploration of love and loss, melody and bloodshed. Musician, playwright, and educator Amyra León takes us on a poetic journey through her childhood in Harlem, as she navigates the intricacies of foster care, mourning, self-love, and resilience. In her signature free-verse style, she invites us all to dream with abandon—and to recognize the privilege it is to dream at all.
Taking on the Plastics Crisis by Hannah Testa, Ashley Lukashevsky (Illustrator) (ISBN-13: 9780593223338 Publisher: Penguin Young Readers Group Publication date: 10/13/2020 Series: Pocket Change Collective, Ages 12-17)
In this personal, moving essay, youth activist Hannah Testa shares with readers how she led a grassroots political campaign to successfully pass state legislation limiting single-use plastics and how she influenced global businesses to adopt more sustainable practices. Through her personal journey, readers can learn how they, too, can follow in Hannah's footsteps and lower their carbon footprint by simply refusing single-use plastics.
Pocket Change Collective is a series of small books with big ideas from today's leading activists and artists. In this installment, youth activist Hannah Testa, the founder of Hannah4Change, chronicles both her personal and political mission to save the Earth's oceans by limiting single-use plastic products.
Kwame Alexander's Free Write: A Poetry Notebook by Kwame Alexander (ISBN-13: 9781728222189 Publisher: Sourcebooks Publication date: 11/03/2020, Ages 8-14)
From the Newbery-Medal winning author of The Crossover and The Undefeatedcomes an exciting , interactive, poetry notebook—empowering kids to express themselves in verse.
Have you ever written a poem? How about rap lyrics or a letter or even a list? 'Cause those can all be poetry too. Wanna give it a try? Bestselling author and poet extraordinaire Kwame Alexander created this super-fly notebook just for YOU! It's bursting with cool activities, sizzling poetry starters, inspirational quotes, and lots of space to create. So grab your pen or pencil 'cause it's time to give your words FLOW and RHYTHM and RHYME.
Incredible stories. Award-winning storytellers. Epic adventure, mystery, and fun? We've got it all in Ghostwriter, the extraordinary new series from the Emmy-award winning hit Apple TV+ show, created by your friends at Sesame Workshop.
A Curse of Roses by Diana Pinguicha (ISBN-13: 9781682815090 Publisher: Entangled Publishing, LLC Publication date: 12/01/2020, Ages 14-18)
Based on Portuguese legend, this #OwnVoices historical fantasy is an epic tale of mystery, magic, and making the impossible choice between love and duty…
With just one touch, bread turns into roses. With just one bite, cheese turns into lilies.
There's a famine plaguing the land, and Princess Yzabel is wasting food simply by trying to eat. Before she can even swallow, her magic—her curse—has turned her meal into a bouquet. She's on the verge of starving, which only reminds her that the people of Portugal have been enduring the same pain for years.
If only it were possible to reverse her magic. Then she could turn flowers intofood.
Fatyan, a beautiful Enchanted Moura, is the only one who can help. But she is trapped by magical binds. She can teach Yzabel how to control her curse—if Yzabel sets her free with a kiss.
As the King of Portugal's betrothed, Yzabel would be committing treason, but what good is a king if his country has starved to death?
With just one kiss, Fatyan is set free. And with just one kiss, Yzabel is yearning for more.
She'd sought out Fatyan to help her save the people. Now, loving her could mean Yzabel's destruction.
A Curse of Roses includes themes, imagery, and content that might be triggering for some readers. Discussions of religious-based self harm, religious-based eating disorders, and religious-based internalized homophobia appear throughout the novel.
Heiress Apparently (Daughters of the Dynasty) by Diana Ma (ISBN-13: 9781419749964 Publisher: Amulet Books Publication date: 12/01/2020, ages 13-18)
The first book in an epic and romantic YA series following the fictionalized descendants of the only officially recognized empress regent of China
Gemma Huang is a recent transplant to Los Angeles from Illinois, having abandoned plans for college to pursue a career in acting, much to the dismay of her parents. Now she's living with three roommates in a two-bedroom hovel, auditioning for bit roles that hardly cover rent. Gemma's big break comes when she's asked to play a lead role in an update of M. Butterfly filming for the summer in Beijing. When she arrives, she's stopped by paparazzi at the airport. She quickly realizes she may as well be the twin of one of the most notorious young socialites in Beijing. Thus kicks off a summer of revelations, in which Gemma uncovers a legacy her parents have spent their lives protecting her from—one her mother would conceal from her daughter at any cost.
Be Dazzled by Ryan La Sala (ISBN-13: 9781492682691 Publisher: Sourcebooks Publication date: 01/05/2021, Ages 14-18)
Project Runway goes to Comic Con in an epic queer love story about creativity, passion, and finding the courage to be your most authentic self.
Raffy has a passion for bedazzling. Not just bedazzling, but sewing, stitching, draping, pattern making—for creation. He's always chosen his art over everything—and everyone—else and is determined to make his mark at this year's biggest cosplay competition. If he can wow there, it could lead to sponsorship, then art school, and finally earning real respect for his work. There's only one small problem… Raffy's ex-boyfriend, Luca, is his main competition.
Raffy tried to make it work with Luca. They almost made the perfect team last year after serendipitously meeting in the rhinestone aisle at the local craft store—or at least Raffy thought they did. But Luca's insecurities and Raffy's insistence on crafting perfection caused their relationship to crash and burn. Now, Raffy is after the perfect comeback, one that Luca can't ruin.
But when Raffy is forced to partner with Luca on his most ambitious build yet, he'll have to juggle unresolved feelings for the boy who broke his heart, and his own intense self-doubt, to get everything he's ever wanted: choosing his art, his way.
Crown of Bones by A. K. Wilder (ISBN-13: 9781640634145 Publisher: Entangled Publishing, LLC Publication date: 01/05/2021, Ages 14-17)
Raise. Your. Phantom.
In a world on the brink of the next Great Dying, no amount of training can prepare us for what is to come…
A young heir will raise the most powerful phantom in all of Baiseen.
A dangerous High Savant will do anything to control the nine realms.
A mysterious and deadly Mar race will steal children into the sea.
And a handsome guide with far too many secrets will make me fall in love.
My name is Ash. A lowly scribe meant to observe and record. And yet I think I'm destined to surprise us all.
Clues to the Universe by Christina Li (ISBN-13: 9780063008885 Publisher: HarperCollins Publishers Publication date: 01/12/2021, Ages 8-12)
This #ownvoices debut about losing and finding family, forging unlikely friendships, and searching for answers to big questions will resonate with fans of Erin Entrada Kelly and Rebecca Stead.
The only thing Rosalind Ling Geraghty loves more than watching NASA launches with her dad is building rockets with him. When he dies unexpectedly, all Ro has left of him is an unfinished model rocket they had been working on together.
Benjamin Burns doesn't like science, but he can't get enough of Spacebound, a popular comic book series. When he finds a sketch that suggests that his dad created the comics, he's thrilled. Too bad his dad walked out years ago, and Benji has no way to contact him.
Though Ro and Benji were only supposed to be science class partners, the pair become unlikely friends: Benji helps Ro finish her rocket, and Ro figures out a way to reunite Benji and his dad. But Benji hesitates, which infuriates Ro. Doesn't he realize how much Ro wishes she could be in his place?
As the two face bullying, grief, and their own differences, Benji and Ro must try to piece together clues to some of the biggest questions in the universe.
Amari and the Night Brothers by B. B. Alston (ISBN-13: 9780062975164 Publisher: HarperCollins Publishers Publication date: 01/19/2021, Ages 8-12)
Artemis Fowl meets Men in Black in this exhilarating debut middle grade fantasy, the first in a trilogy filled with #blackgirlmagic. Perfect for fans of Tristan Strong Punches a Hole in the Sky, the Percy Jackson series, and Nevermoor.
Amari Peters has never stopped believing her missing brother, Quinton, is alive. Not even when the police told her otherwise, or when she got in trouble for standing up to bullies who said he was gone for good.
So when she finds a ticking briefcase in his closet, containing a nomination for a summer tryout at the Bureau of Supernatural Affairs, she's certain the secretive organization holds the key to locating Quinton—if only she can wrap her head around the idea of magicians, fairies, aliens, and other supernatural creatures all being real.
Now she must compete for a spot against kids who've known about magic their whole lives. No matter how hard she tries, Amari can't seem to escape their intense doubt and scrutiny—especially once her supernaturally enhanced talent is deemed "illegal." With an evil magician threatening the supernatural world, and her own classmates thinking she's an enemy, Amari has never felt more alone. But if she doesn't stick it out and pass the tryouts, she may never find out what happened to Quinton.
Unchosen by Katharyn Blair (ISBN-13: 9780062657640 Publisher: HarperCollins Publishers Publication date: 01/26/2021, Ages 14-17)
Katharyn Blair crafts a fiercely feminist fantasy with a horrifying curse, swoon-worthy sea captains, and the power of one girl to choose her own fate in this contemporary standalone adventure that's perfect for fans of The Fifth Wave and Seafire, and for anyone who has ever felt unchosen.
For Charlotte Holloway, the world ended twice.
The first was when her childhood crush, Dean, fell in love—with her older sister.
The second was when the Crimson, a curse spread through eye contact, turned the majority of humanity into flesh-eating monsters.
Neither end of the world changed Charlotte. She's still in the shadows of her siblings. Her popular older sister, Harlow, now commands forces of survivors. And her talented younger sister, Vanessa, is the Chosen One—who, legend has it, can end the curse.
When their settlement is raided by those seeking the Chosen One, Charlotte makes a reckless decision to save Vanessa: she takes her place as prisoner.
The word spreads across the seven seas—the Chosen One has been found.
But when Dean's life is threatened and a resistance looms on the horizon, the lie keeping Charlotte alive begins to unravel. She'll have to break free, forge new bonds, and choose her own destiny if she has any hope of saving her sisters, her love, and maybe even the world.
Because sometimes the end is just a new beginning.
Bump by Matt Wallace (ISBN-13: 9780063007987 Publisher: HarperCollins Publishers Publication date: 01/26/2021, Ages 8-12)
A moving and triumphant middle grade contemporary debut from award-winning author Matt Wallace about a heroic young girl—who dreams of becoming a pro wrestler—learning to find courage and fight for what she loves. Perfect for fans of Kelly Yang, Meg Medina, and Jason Reynolds' Track series!
MJ knows what it means to hurt. Bruises from gymnastics heal, but big hurts—like her dad not being around anymore—don't go away. Now her mom needs to work two jobs, and MJ doesn't have friends at school to lean on.
There is only one thing MJ loves: the world of professional wrestling. She especially idolizes the luchadores and the stories they tell in the ring. When MJ learns that her neighbor, Mr. Arellano, runs a wrestling school, she has a new mission in life: join the school, train hard, and become a wrestler.
But trouble lies ahead. After wrestling in a showcase event, MJ attracts the attention of Mr. Arellano's enemy at the State Athletic Commission. There are threats to shut the school down, putting MJ's new home—and the community that welcomed her—at risk. What can MJ do to save her new family?
Can't Take That Away by Steven Salvatore (ISBN-13: 9781547605309 Publisher: Bloomsbury USA Publication date: 03/09/2021, Ages 12-17)
An empowering and emotional debut about a genderqueer teen who finds the courage to stand up and speak out for equality when they are discriminated against by their high school administration.
Carey Parker dreams of being a diva, and bringing the house down with song. They can hit every note of all the top pop and Broadway hits. But despite their talent, emotional scars from an incident with a homophobic classmate and their grandmother's spiraling dementia make it harder and harder for Carey to find their voice.
Then Carey meets Cris, a singer/guitarist who makes Carey feel seen for the first time in their life. With the rush of a promising new romantic relationship, Carey finds the confidence to audition for the role of Elphaba, the Wicked Witch of the West, in the school musical, setting off a chain reaction of prejudice by Carey's tormentor and others in the school. It's up to Carey, Cris, and their friends to defend their rights—and they refuse to be silenced.
Told in alternating chapters with identifying pronouns, debut author Steven Salvatore's Can't Take That Away conducts a powerful, uplifting anthem, a swoony romance, and an affirmation of self-identity that will ignite the activist in all of us.
The Prison Healer by Lynette Noni (ISBN-13: 9780358434559 Publisher: HMH Books Publication date: 04/13/2021, Ages 12-16)
Seventeen-year-old Kiva Meridan has spent the last ten years fighting for survival in the notorious death prison, Zalindov, working as the prison healer.

When the Rebel Queen is captured, Kiva is charged with keeping the terminally ill woman alive long enough for her to undergo the Trial by Ordeal: a series of elemental challenges against the torments of air, fire, water, and earth, assigned to only the most dangerous of criminals.

Then a coded message from Kiva's family arrives, containing a single order: "Don't let her die. We are coming." Aware that the Trials will kill the sickly queen, Kiva risks her own life to volunteer in her place. If she succeeds, both she and the queen will be granted their freedom.

But no one has ever survived.

With an incurable plague sweeping Zalindov, a mysterious new inmate fighting for Kiva's heart, and a prison rebellion brewing, Kiva can't escape the terrible feeling that her trials have only just begun.

From bestselling author Lynette Noni comes a dark, thrilling YA fantasy perfect for fans of Sarah J. Maas, and Sabaa Tahir.

ParaNorthern: And the Chaos Bunny A-hop-calypse by Stephanie Cooke, Mari Costa (ISBN-13: 9780358164586 Publisher: Houghton Mifflin Harcourt Publication date: 07/06/2021, Ages 8-12)
A witch named Abby and her three friends—a wolf-girl, a ghost, and a pumpkinhead—band together to try and save their supernatural town from an invasion of rabid (but adorable!) chaos bunnies in this enchanting middle-grade graphic novel for fans of Making Friends, The Okay Witch, and Lumberjanes.
It's fall break in the supernatural town of North Haven, and young witch Abby's plans include pitching in at her mom's magical coffee shop, practicing her potion making, and playing board games with her best friends—a pumpkinhead, a wolf-girl, and a ghost. But when Abby finds her younger sister being picked on by some speed demons, she lets out a burst of magic so strong, it opens a portal to a realm of chaos bunnies. And while these bunnies may look cute, they're about to bring the a-hop-ocalypse (and get Abby in a cauldronful of trouble) unless she figures out a way to reverse the powerful magic she unwittingly released. What's a witch to do?
In this deliciously humorous, cozy, and bewitching graphic novel, sometimes the most of powerful magic comes from our connections to family and friends (but kicking bunny butt is great, too).
Filed under: Uncategorized
About Amanda MacGregor
Amanda MacGregor works in an elementary library, loves dogs, and can be found on Twitter @CiteSomething.