2019 GLSEN National School Climate Survey results about LGBTQ students' experiences in school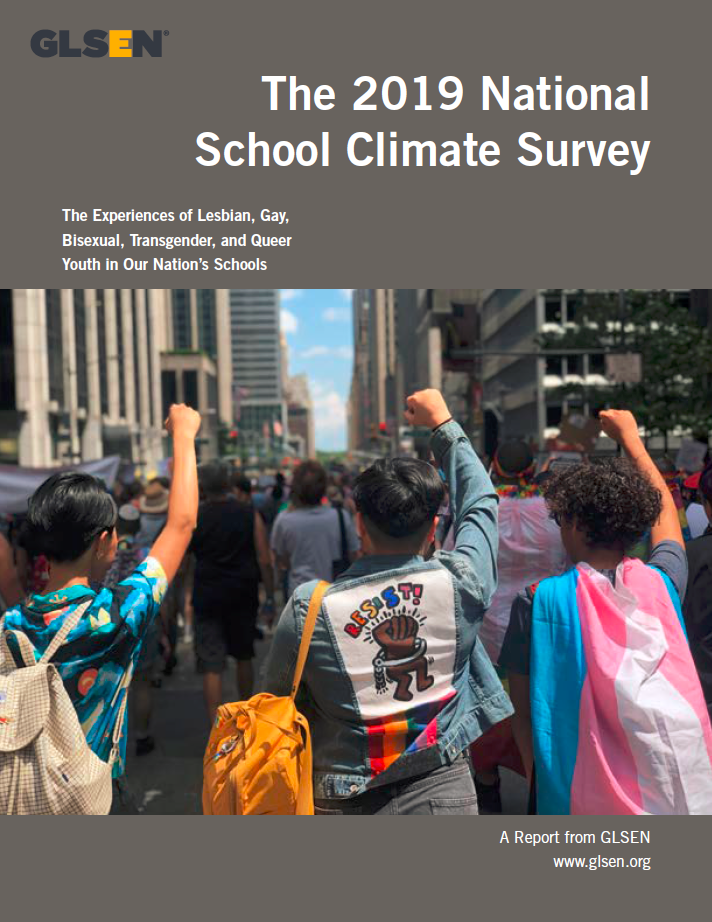 GLSEN, the Gay, Lesbian and Straight Education Network, released its biennial National School Climate Survey, which documents the experiences of lesbian, gay, bisexual, transgender, and queer youth in schools from across the country, in October. 20 years of research shows that dedicated school support and resources for LGBTQ+ students works, leading to less verbal and physical harassment over that time period. Also, "LGBTQ+ students feel safer and more supported with: anti-bullying and anti-discrimination policies, teachers and school staff who are supportive of LGBTQ students, gender and sexuality alliances, and an LGBTQ+ inclusive curriculum."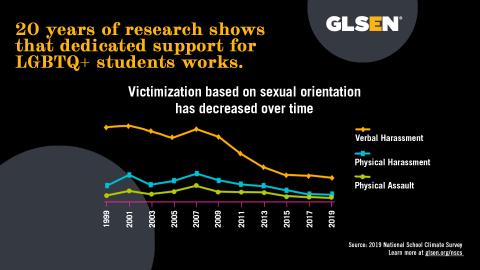 The 220 page report (which is available as a PDF) looks at discrimination, harassment, assault, biased language, school resources and support, and more, and examines how these factors affect educational performance, safety, and mental health of LGBTQ teens. The report is filled with statistics, charts, and graphs that drive home the point that LGBTQ students face a lot of opposition at school and frequently don't feel safe or supported.  Being knowledgeable of the potential struggles and understanding where they (and you!) can go to find useful resources (books, websites, helplines, etc) is a major step in the right direction.
SCROLL TO KEEP READING THIS POST
As GLSEN reports, " The survey has consistently indicated that specific school-based supports are related to a safer and more inclusive school climate, including: supportive educators, LGBTQ-inclusive curriculum, inclusive and supportive policies, and supportive student clubs, such as Gay-Straight Alliances or Gender and Sexuality Alliances (GSAs)." Also, "In addition, this installment of GLSEN's National School Climate Survey also includes an extensive exploration of how school climate has changed since we began conducting this survey, including insights into how racist remarks and harassment, feelings of safety regarding citizenship, gender-based discrimination, and LGBTQ student identities have all changed over time."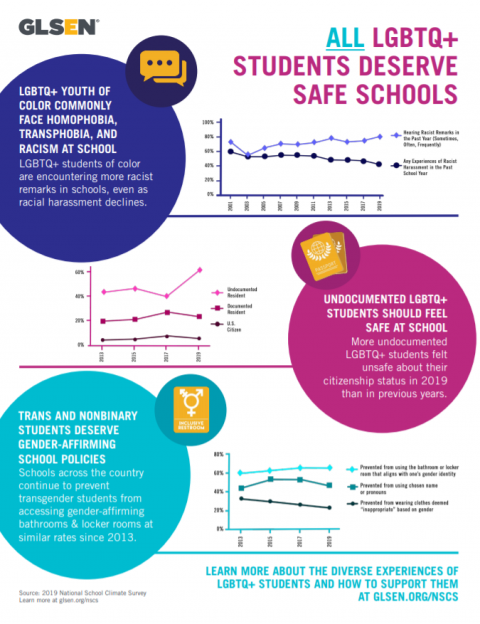 This report should be required reading for anyone who works with students of all ages. 
The following data is taken from the survey results. Though the report in quite long, it's important reading. The report does offer summaries of survey points. All infographics are from GLSEN and available to download and share.  The summary points from this report includes offensive slurs. 
Findings of the 2019 National School Climate Survey include: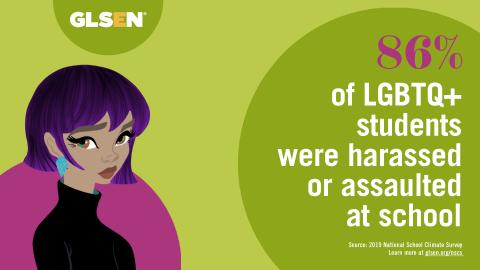 Anti-LGBTQ Remarks at School
• Almost all  LGBTQ students (98.8%) heard the word "gay" used in a negative way often or frequently at school.
•96.9% of LGBTQ students heard the phrase "no homo" at school
• 91.8% of LGBTQ students heard negative remarks about gender expression
• 87.4% of LGBTQ students heard negative remarks specifically about transgender people (e.g., "tranny" or "he/she")
• 52.4% of students reported hearing homophobic remarks from their teachers or other school staff, and 66.7% of students reported hearing negative remarks about gender expression from teachers or other school staff.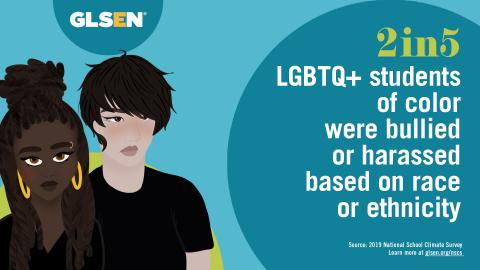 School Safety, Harassment, and Assault at School
• The vast majority of LGBTQ students (86.3%) experienced harassment or assault based on personal characteristics, including sexual orientation, gender expression, gender, actual or perceived religion, actual or perceived race and ethnicity, and actual or perceived disability.
• 32.7% of LGBTQ students missed at least one entire day of school in the past month because they felt unsafe or uncomfortable, 8.6% missed four or more days in the past month.
• Nearly a fifth of LGBTQ students (17.1%) reported having ever changed schools due to feeling unsafe or uncomfortable at school.
• 25.7% of LGBTQ students were physically harassed (e.g., pushed or shoved) in the past year based on sexual orientation, 21.8% based on gender expression, and 22.2% based on gender.
• 68.7% of LGBTQ students experienced verbal harassment (e.g., called names or threatened) at school based on sexual orientation, 56.9% based on gender expression, and 53.7% based on gender.
• 44.9% of students reported experiencing some form of electronic harassment ("cyberbullying") in the past year.
• Over half of students (58.3%) were sexually harassed at school in past year.
The high incidence of harassment and assault is exacerbated by school staff who rarely intervene on behalf of LGBT students.
• 56.6% of students who were harassed or assaulted at school did not report these incidents to school staff.
• The most common reasons that LGBTQ students did not report incidents was because they doubted that effective intervention would occur or the
situation could become worse if reported.
• 60.5% of students who had reported incidents of victimization to school staff said that staff did nothing or told them to ignore it.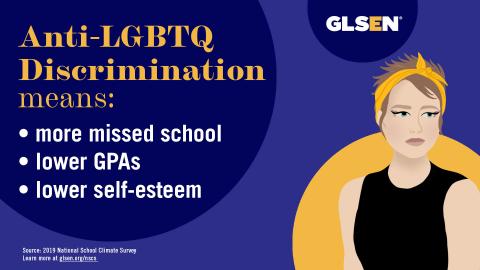 Discriminatory Policies and Practices
Most LGBTQ students (59.1%) reported personally experiencing any LGBTQ-related discriminatory policies or practices at school. Specifically, LGBTQ students reported being:

• Prevented from using bathrooms aligned with their gender identity: 28.4%.
• Disciplined for public displays of affection that were not similarly disciplined among non-LGBTQ students: 28.0%.
• Prevented from using chosen names/pronouns: 22.8%.
• Prevented or discouraged from participating in school sports because they were LGBTQ: 10.2%.
• Prohibited from discussing or writing about LGBTQ topics in school assignments: 16.6%.
The report goes on to discuss:
*absenteeism ("LGBTQ students who experienced higher levels of victimization based on their sexual orientation were nearly three times as likely to have missed school in the past month than those who experienced lower levels (57.2% vs. 21.7%))
*academic achievement ("Were nearly twice as likely to report that they did not plan to pursue any post-secondary education (e.g., college or trade school) than those who experienced lower levels (9.9% vs. 5.8%);" and "Had lower grade point averages (GPAs) than students who were less often harassed (3.03 vs. 3.34).")
*psychological well-being ("Had lower self-esteem and school belonging and higher levels of depression.")
Additionally, it breaks the data down by gender, orientation, race, ethnicity, school type, location, region, and more.
GLSEN offers many recommendations for turning these statistics around, such as giving students more access to LGBTQ-related information (literature, history, etc), forming GSA groups, providing professional development to increase the number of supportive teachers and staff, ensuring school policies are not discriminatory, having anti-bullying and harassment policies that make it clear that they provide safety for LGBTQ students, and teaching an inclusive curriculum.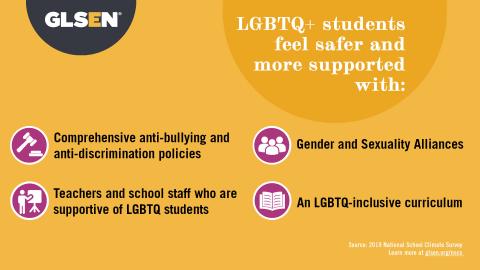 LGBTQ students experienced a safer, more positive school environment when:
– Their school had a Gay-Straight Alliance (GSA) or Gender and Sexuality Alliance (GSA) or similar student club.
– They were taught positive representations of LGBT people, history, and events through their school curriculum.
– They had supportive school staff who frequently intervened in biased remarks and effectively responded to reports of harassment and assault
– Their school had an anti-bullying/harassment policy that specifically included protections based on sexual orientation and gender identity/expression.
– Transgender/gender nonconforming students in schools with official policies or guidelines to support trans/GNC students had more positive school experience, including less discrimination and more positive school belonging.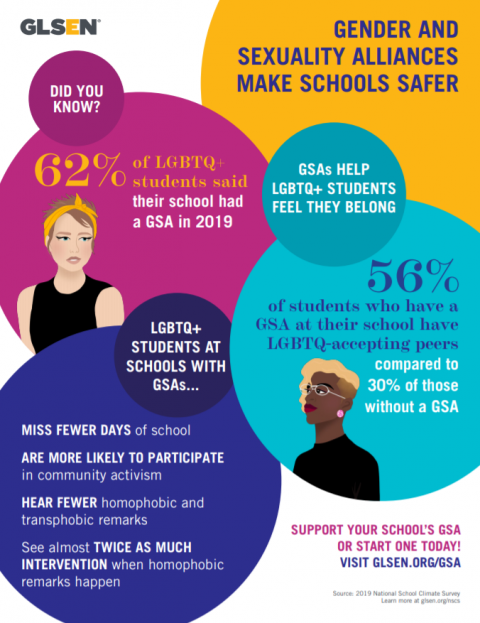 SCROLL TO KEEP READING THIS POST
"Instituting these measures can move us toward a future in which all students have the opportunity to learn and succeed in school, regardless of sexual orientation, gender identity, or gender expression."
Previously at TLT:
Many posts for collection development and ways to support and affirm LGBTQIA+ students can be found by searching the tag LGBTQIA+ on the blog.
Also check out:
The Human Rights Campaign's Welcoming Schools Project, which "is one of the few LGBT and gender-inclusive programs in the country that has a K-5 focus with resources to help elementary schools and educators address bias-based bullying—including anti-LGBT slurs and gender put-downs."
From their site: GLSEN, the Gay, Lesbian & Straight Education Network, is the leading national education organization focused on ensuring safe and affirming schools for all students. Established in 1990, GLSEN envisions a world in which every child learns to respect and accept all people, regardless of sexual orientation or gender identity/expression. GLSEN seeks to develop school climates where difference is valued for the positive contribution it makes to creating a more vibrant and diverse community. For information on GLSEN's research, educational resources, public policy advocacy, student organizing programs and educator training initiatives, visit www.glsen.org.
I am thankful for the hard work GLSEN does to support and affirm LGBTQIA+ students to make sure they receive safe, supportive, and inclusive educations. I'm donating to them today to help fund their  programs, advocacy, research, and policy work and hope you will too.
Filed under: Uncategorized
About Amanda MacGregor
Amanda MacGregor works in an elementary library, loves dogs, and can be found on Twitter @CiteSomething.