B is for Brothers *and* Sisters; a Take 5 List
Today is the last day of January, so it's our last day with the Letter B (though we will still post something if we get it because we like this discussion). Today TLTer Heather Booth is discussing brothers (and sisters).
If you are in a mixed gender sibling group, you might have noticed the relative lack of books featuring relationships between brothers and sisters as compared with books about sisterhood or the bond between brothers. I get it. As the parent of sisters, I see how their relationship is something set apart from what my brothers and I had. But whenever I read a book about brothers and sisters in relation to one another, I've got to say it tugs on my heartstrings.
SCROLL TO KEEP READING THIS POST
We didn't have many hobbies in common. We didn't share clothes. We didn't weren't generally friends with each others' friends but one of us did date someone's best friend.  The typical bonding that you see in books about sisters or books about brothers doesn't tend to happen quite the same way, but it does happen.
With shoutouts to my not-so-little brothers, here are my top five books with brother/sister relationships:
Good And Gone by Megan Frazer Blakemore
When Lexi Green's older brother, Charlie, starts plotting a road trip to find Adrian Wildes, a famous musician who's been reported missing, she's beyond confused. Her brother hasn't said a nice word to her or left the couch since his girlfriend dumped him months ago—but he'll hop in a car to find some hipster? Concerned at how quickly he seems to be rebounding, Lexi decides to go along for the ride.
Besides, Lexi could use the distraction. The anger and bewilderment coursing through her after getting dumped by her pretentious boyfriend, Seth, has left her on edge. As Lexi, Charlie, and their neighbor Zack hit the road, Lexi recalls bits and pieces of her short-lived romance and sees, for the first time, what it truly was: a one-sided, coldhearted manipulation game. Not only did Seth completely isolate her, but he took something from her that she didn't give him permission to.
The farther from home they get, the three uncover much more than empty clues about a reclusive rocker's whereabouts. Instead, what starts off as a car ride turns into an exploration of self as each of them faces questions they have been avoiding for too long. Like the real reason Charlie has been so withdrawn lately. What Seth stole from Lexi in the pool house. And if shattered girls can ever put themselves back together. (Publisher description)
I'll Give You The Sun by Jandy Nelson
At first, Jude and her twin brother Noah, are inseparable. Noah draws constantly and is falling in love with the charismatic boy next door, while daredevil Jude wears red-red lipstick, cliff-dives, and does all the talking for both of them.
Years later, they are barely speaking. Something has happened to change the twins in different yet equally devastating ways . . . but then Jude meets an intriguing, irresistible boy and a mysterious new mentor.
The early years are Noah's to tell; the later years are Jude's. But they each have only half the story, and if they can only find their way back to one another, they'll have a chance to remake their world.
This radiant, award-winning novel from the acclaimed author of The Sky Is Everywhere will leave you breathless and teary and laughing—often all at once. (Publisher description)
Lindsey Lost by Suzanne Marie Phillips
Even though Micah's a star pitcher, his older sister Lindsey is the real deal—a runner so good, she has a shot at the Olympics. The two of them urge each other on, and are each other's best support. Then the unthinkable happens: Lindsey is murdered, and Micah may have been the last person to see her. But he can't remember what happened, no matter what their parents tell him, no matter what the police say. Did he witness his sister's murder—or commit it? Can he recall the truth before his life is sentenced to end, too? (Publisher's description)
More than anything, I appreciated the mourning that Micah does for his sister. Their love for one another is evident in a way that is uncommon in sibling relationship books. -hb
Ink & Ashes by Valynne E. Maetani
Claire Takata has never known much about her father, who passed away when she was a little girl. But on the anniversary of his death, not long before her seventeenth birthday, she finds a mysterious letter from her deceased father, addressed to her stepfather. Claire never even knew that they had met.
Claire knows she should let it go, but she can't shake the feeling that something's been kept from her. In search of answers, Claire combs through anything that will give her information about her father . . . until she discovers he was a member of the yakuza, the Japanese mafia. The discovery opens a door that should have been left closed.
SCROLL TO KEEP READING THIS POST
So begins the race to outrun his legacy as the secrets of her father's past threaten Claire's friends and family, newfound love, and ultimately her life. Ink and Ashes, winner of Tu Books' New Visions Award, is a heart-stopping debut mystery that will keep readers on the edge of their seats until the very last page. (Publisher description)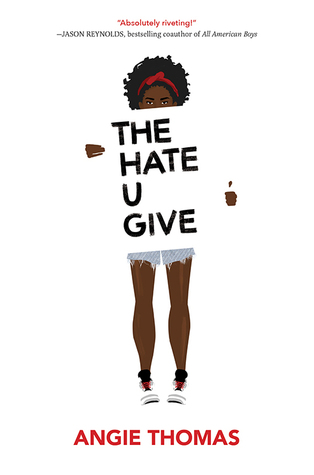 The Hate U Give by Angie Thomas
Sixteen-year-old Starr Carter moves between two worlds: the poor neighborhood where she lives and the fancy suburban prep school she attends. The uneasy balance between these worlds is shattered when Starr witnesses the fatal shooting of her childhood best friend Khalil at the hands of a police officer. Khalil was unarmed.
Soon afterward, his death is a national headline. Some are calling him a thug, maybe even a drug dealer and a gangbanger. Protesters are taking to the streets in Khalil's name. Some cops and the local drug lord try to intimidate Starr and her family. What everyone wants to know is: what really went down that night? And the only person alive who can answer that is Starr.
But what Starr does or does not say could upend her community. It could also endanger her life. (Publisher description)
Among the many things I loved about this book is the way Starr and Seven have a complex relationship as similar-aged, opposite gender, half-siblings. What is never in doubt or ambiguous though is that their bond is strong and permanent. (hb)
Filed under: #YAAtoZ
About Heather Booth
Heather Booth has worked in libraries since 2001 and am the author of Serving Teens Through Reader's Advisory (ALA Editions, 2007) and the editor of The Whole Library Handbook: Teen Servcies along with Karen Jensen.