Video Games Weekly: Lego Harry Potter Collection
The Lego Harry Potter Collection is the remastered PS4 edition of the original Lego Harry Potter games, (it's unknown if a remastered edition will be released for Xbox or Nintendo) but this time the entire game is on one disc!  The release was timely considering the movie Fantastic Beasts and Where to Find Them came out in the same month.
YouTube Trailer:
Platform:  PS4
Rated: E10+
Single or Multiplayer: Both, up to two-player co-op
Storyline: The storyline is based off of the Harry Potter books.  Similar to the movie, the game focuses on key plot points and glosses over the details.  Hardcore fans of Harry Potter will notice how the storyline combines events together in order to make each chapter shorter, but the game is overall charming and will make players nostalgic for their favorite wizarding school days.
SCROLL TO KEEP READING THIS POST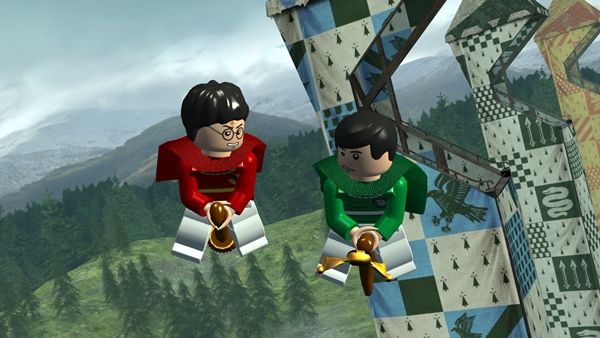 Gameplay: In a standard Lego game, players are encouraged to wreck/fix as many things as possible in order to collect studs.  Studs are the standard Lego game's currency that can be used to unlock bonus content such as levels, characters, costumes, and special moves.  What makes Lego Harry Potter stand out is how instead of just punching items repetitively for studs, players can use specific spells to wreck or fix items.  For example, the first spell players learn is Wingardium Leviosa, which can be used to levitate books back on their shelves, or lift benches.  You can only lift things with Wingardium Leviosa, and it's up to players to figure out what spell they need in order to move what objects.
The best part about spells is how they foreshadow what is to come later in the game.  One example is during  Year 1, players can see a bunch of Cornish Pixies holding golden cauldrons or blocking players from entering certain parts of the Hogwarts castle, but players know they won't be able to get there until at least Year 2.  This also encourages players to replay previous levels once they have unlocked that one spell they needed, which in turn lengthens the gameplay using the same levels/maps.
Each year takes about an hour or two to beat, meaning it'll take about 14 hours to beat the entire game the first time through.  Players will definitely replay the game to unlock bonus characters, golden bricks, and other fun items, so this game overall takes over 20 hours to beat.

Audience: This game is made for any fans of Harry Potter, young or old.  The game is also more fun to play in multiplayer mode, so be sure to grab a friend or relative to enjoy this easy-to-learn game!
Verdict: Recommended for circulating collections where Lego games are popular, especially if any copies of Years 1-4 or 5-7 have gone missing over the years.
Questions? Comments? Tweet them at me!
By: Alanna Graves
Twitter: @LannaLibrarian
Pricing: $50 on Amazon https://www.amazon.com/LEGO-Harry-Potter-Collection-PlayStation-4/dp/B01LPO6WF6
that during?
Filed under: Video Games, Video Games Weekly
About Karen Jensen, MLS
Karen Jensen has been a Teen Services Librarian for almost 30 years. She created TLT in 2011 and is the co-editor of The Whole Library Handbook: Teen Services with Heather Booth (ALA Editions, 2014).