Video Games Weekly: Shovel Knight
I've been playing a lot of side-scrolling platform games in 2016, but I think this will be the last one for a while! I will say that this one is by far the BEST side scrolling game that I've encountered in 2016, and probably one of my top five overall!
Background: Shovel Knight came out in 2014 for the PC, Nintendo 3DS, and Wii U, but then was re-released for PS3, PS4, PS Vita, and Xbox One in 2015. As you can guess, the game is incredibly popular! So much so that they made an Amiibo for it. The reason why the game took so long to get released on the newer consoles is the game is created by an Indie company, and it's hard for Indie companies to break into mainstream console markets. Indie developers have to get picked up by companies in order to break into the console market, and it isn't always worth the effort when you can reach a wider audience selling your game for cheap on Steam or promoting it on Reddit.
SCROLL TO KEEP READING THIS POST
Platform: PS3, PS4, PS Vita, Xbox One, Wii U, PC. Note: It's a little sketchy to buy because different platforms are available from different vendors. Amazon has 3DS, Amiibo, and PS4, but Access Ingram has all that AND the WIi U version.
Rated: E10+
Single or Multiplayer: Single
Storyline: You play as a blue knight named Shovel Knight because your preferred weapon is…wait for it…a shovel. You learn that your BFF and/or beloved Shield Knight was imprisoned in a tower thanks to an evil Enchantress.   Shovel Knight gets so depressed that he lives in solitude for years. While Shovel Knight was in exile, The Enchantress had coaxed eight knights called "The Order of No Quarter" to help her take over the kingdom and now rules the world. Shovel Knight fights each of these knights in their castles as he looks for Shield Knight . It's a basic storyline with a brave protagonist on a quest to find a person, and evil sub-bosses stand in your way until you fight the Big Boss Enchantress. The eight knights have pretty awesome names like Treasure Knight, Mole Knight, and Propeller Knight.
Game Play: The game is a platform jumper, and is a homage to old school games from the 80s and early 90s. The art is 8-bit, the music is chiptune (and catchy I might add), and it has many nuances that are found in retro games. Even though this game uses a lot of retro elements, its combat style is what makes it unique. Most adventure games give your character a gun or sword to use as a weapon, but Shovel Knight only wields a shovel and [later] magic. This means you attack enemies by shoveling them or bouncing on their heads while you ride the shovel like a pogo stick.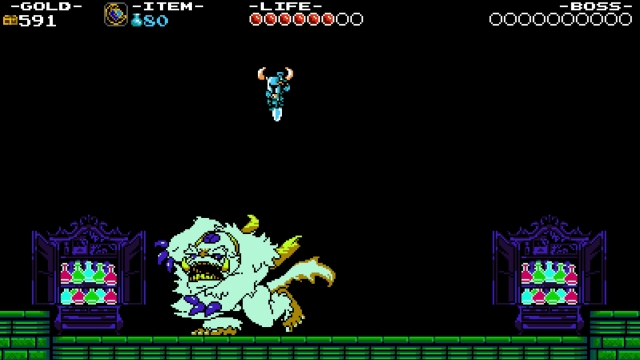 Shovel Knight can also learn a variety of magic, but magic has its limits. When you defeat an enemy, the enemy drops gold and sometimes magic points. Players can also find secret areas that have treasure chests with even MORE gold! Also, if you die while playing a level, you drop a chunk of your gold and have to go back to retrieve it. Sometimes it's better to quit a level altogether and go back to the beginning because you want to maximize the amount of gold you can get per level. Players can use gold to purchase more health, magic, and other bonus items, but you have to spend your gold wisely. You want to purchase equipment that will help you defeat whatever knight is in the next castle.
I know it sounds silly, but trust me, the game is mega fun. It's also INCREDIBLY HARD. It took me like 30 minutes to figure out how to beat Spectre Knight, and that's pretty early in the game. My thumbs literally went numb playing this game for a few hours, and my heart stopped a couple of times as Shovel Knight miscalculated a jump and fell into a pit. This game is hard because players have to get the timing just right in order to defeat enemies, and use a combination of melee attacks with the shovel and not waste their magic. Actually, this game is about as difficult as retro games used to be in the 80s. If you want to read about what 80s games Shovel Knight is based off of, you can read this.
Audience: This game is certainly not for beginner gamers. It's pretty difficult, and it also doesn't have any tutorials on how to play. This can lead to frustration, so give this title to older gamers who will appreciate a good throwback retro game. Also, teens who are advanced gamers should enjoy this title, especially if they aren't familiar with its NES predecessors. I would not recommend this title for a program because 1) it's single player and 2) there's a huge risk factor every time you die. Super Mario Maker is the better choice for a single player game that can be enjoyed by everyone watching.
Verdict: I know it's difficult to purchase at this time, but I highly recommend trying to get the game if you can. It is seriously one of the best side scrolling games that I have reviewed for Teen Librarian Toolbox, and I think your patrons will enjoy it just as much as I did.
Questions? Comments? Tweet them at me!
By: Alanna Graves
Twitter: @LannaLibrarian
Pricing
$20 on Amazon http://www.amazon.com/s/ref=nb_sb_noss_2?url=search-alias%3Daps&field-keywords=shovel+knight
Filed under: Video Games, Video Games Weekly
About Karen Jensen, MLS
Karen Jensen has been a Teen Services Librarian for almost 30 years. She created TLT in 2011 and is the co-editor of The Whole Library Handbook: Teen Services with Heather Booth (ALA Editions, 2014).