Book Review: Real Prom Queens of Westfield High by Laurie Boyle Crompton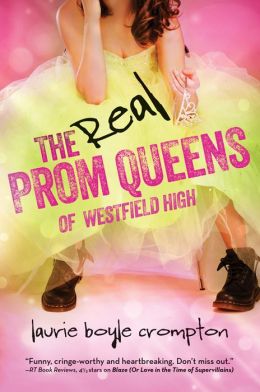 News Press Release
 
WESTFIELD Reality television is heading to high school! Watch the drama unfold as the three biggest nobodies in Westfield High's senior calls get a shot at becoming popular!
Our hidden cameras will catch all the action as they vie for the ultimate label of acceptance and popularity—Prom Queen!
It's no surprise to Shannon when she is voted least likely to be prom queen at Westfield High. That is until she's selected to co-star in a hidden-camera reality show, The Prom Queen Wannabes, and undergoes a complete makeover.
Now the social hierarchy of the entire senior class is about to be turned upside down. But when Shannon uncovers proof that the beauty business can be awfully ugly, she must find a way to show her BFF and one true crush that underneath the fabulous makeover, she really hasn't changed.
This prom night is about to shock everyone's corsages off.
I saw the cover to this in the Sourcebook's booth at the Texas Library Association, and I have to say, it really drew me in. I am a *sucker* for reality TV shows (most of the Bravo Housewives series, cooking contest shows, etc.), so one dealing with flipping the book on the social aspects of high school seemed like a winner.
If you watch (or hear) about reality TV at all, you will know instantly which TV shows Laurie Boyle Crompton references throughout the book (*cough* ANTM *cough* *cough* The Face *cough* *cough* Project Runway *cough*).  Along with the huge product placement, the book completely pokes fun at the "reality TV" notion (that everything is 'real' and 'unscripted') as well as the notion that things are run fairly on the shows.
Shannon falls into the reality show spell in order to try and bring her mom out of the office at all hours and into a more reasonable living arrangements- she's all into it for the money. And to loose a school nickname that she can't seem to shake. However, she falls deeper and deeper into the show's depths when she can't reveal she's ON the show to her best friend in the whole world, and everything in her life becomes less and less real. She loses her friends, her grades, and her sense of self in the middle of everything, and only by throwing everything to the wind can she hope to regain everything.
The references are hysterical and the message is important to teens everywhere, and along with the over-the-top madness, will bring readers in.
RECOMMENDED for readers who want a funny and light read, and who love all things dealing with reality TV. Pair with Beauty Queens, Anna and the French Kiss, Bumped, and the LA Candy series. Pair with reality series non-fiction like Project Runway and others for a compare/contrast or a display of 'real' and 'fictional' books. 
SCROLL TO KEEP READING THIS POST
Find some more Reality TV inspired reads here and here 
And here are some Reality TV inspired programming ideas 
Filed under: Book Reviews, Laurie Boyle Crompton, Real Prom Queens of Westfield High
About Karen Jensen, MLS
Karen Jensen has been a Teen Services Librarian for almost 30 years. She created TLT in 2011 and is the co-editor of The Whole Library Handbook: Teen Services with Heather Booth (ALA Editions, 2014).