Take 5 Gift-Making Programs (TPiB)
Whether it's in conjunction with the winter holidays, Mother's Day, or just for something fun, these simple activities are inexpensive, easy to put together, and provide each teen with a nice giftable item to take home.
1. Snack-in-a-Jar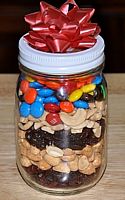 Photo credit:
www.kids-cooking-activities.com/
There are innumerable variations on the in-a-jar theme, but the very simplest is a snack mix.  Provide jars or ask teens to bring their own – a clean spaghetti sauce jar is a good option.  Having plastic gloves and a warning about food allergies and sensitivities is a must.  The set up is simple: a table with bowls of the various snack options and scoops.  Teens mix and match and layer their preferred snack – sweet, savory, or a mix!  
cheese crackers, pretzels, or other small crackers
breakfast cereals like Os, Life, Chex
sweets like M&Ms, chocolate or butterscotch chips
raisins or other dried fruits
Photo credit:
 http://laurascrafttable.blogspot.com/
I just did this craft the hard way – with persnickety adults – but doing it with teens would be lots of fun too.  Ten bars of Ivory soap were $5 at Target this week, and you probably have the other supplies already: stickers, fabric scraps, scrapbook paper, and Mod Podge.  
Shape your soap with a table knife if you want – Ivory is very soft and easy to carve.  Then cover one side of your soap with a layer of Mod Podge, arrange your decoration, and then another layer of Mod Podge.  You can get fancy and use dried flowers or herbs, or dip the decorated side in melted paraffin, or you could make fancy paper wraps for the soap, or you could skip that and just have fun.  
Broaden the appeal by including decorations like local favorite sports teams, trendy motifs (mustaches, foxes, chevrons), or seasonal items (snowmen in the winter, hearts around Valentine's, beachy stuff in the summer).
3. "Where I'm From" Poetry
Mitten shout-out. Photo credit:
http://katastrophicthoughts.wordpress.com/
This is an approachable poetry technique that encourages the writer to pull small but significant images, senses, emotions, and events from their past, weaving them into a poem with a simple structure.  This is a technique that enables even those who have never written a poem before to create a lovely piece, and it very regularly leads to beautiful, tear-jerking results, making it an ideal gift for family, close friends, and loved ones.  First, read the George Ella Lyon poem that originated the exercise, and share several teen examples as well.  Scholastic has a nice lesson plan.  For the super creative, encourage teens to illustrate their poems.  You could also adapt this into a word cloud, to different effect. 


4. Custom Hot Cocoa Mixes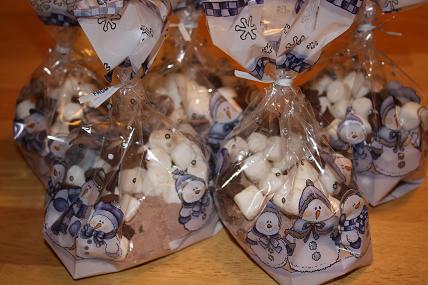 Photo credit: http://www.vanillajoy.com/
Great for an easy winter program, I've done this as a part of my Valentine's Day chocolate extravaganza.  Use this recipe to make your own cocoa mix, or buy pre-made Swiss Miss.  The fun is in customizing the cocoa with add-ins like:
Chocolate or white chocolate shavings
5. Tub Teas
Photo credit: www.marthastweart.com
This could be a spa-night activity too, but it makes a great mom/auntie/grandma item, especially for younger teens who lack resources but want something sweet and nice to give as a gift.  Martha's tutorial uses heat sealable tea bags and fancy herbs, which can add up fast, but there are some easy ways to make this more economical:
1. Instead of the heat sealable tea bags, buy the fold-over style, or layer a few squares of cheese cloth and tie with a pretty ribbon.
3. Shop your local bulk store for the herbs. 
4. Purchase a few bottles of essential oil to scent the salt.  I little goes a looong way.
-Heather
About Karen Jensen, MLS
Karen Jensen has been a Teen Services Librarian for almost 30 years. She created TLT in 2011 and is the co-editor of The Whole Library Handbook: Teen Services with Heather Booth (ALA Editions, 2014).