Readers Advisory: World War Z and Israeli Female Soldiers in Teen YA
A friend and I went and watched World War Z over the weekend. I haven't read the book by Max Brooks (all of the copies in our system have been "lost" for a while now, so unless I go out and buy it for myself I won't be able to) but I enjoyed the movie- I liked the way the zombies moved, and the twist of how they solved the crisis. One thing that I especially enjoyed was that, while in Israel, they portrayed the Israeli soldiers realistically.  

Israel is the only country in the world that has a mandatory military service requirement for women. They have to serve at least 24 months, and generally serve during their late teen and early adult years (17-24 years of age). More information can be found here and here.

In a movie like World War Z, you expect to see men fighting all over everywhere. And you saw that in the American soldiers- I don't remember a single female field soldier anywhere, except those on the naval ship. However, when Brad Pitt was going throughout Israel, he was surrounded by young, female soldiers of the Israeli army- including one who plays a huge part in the movie later on. It so accurately portrays what female fighters do on a daily basis it made such a striking impression on me, mainly because you don't often see that in any of our mainstream movies. Unless they are the main character, we'll get one or two token females, and that's it. And it's extremely hard to find in teen books.  I've found four- if you have more, share in the comments.


SCROLL TO KEEP READING THIS POST

Aggie is eighteen and getting ready to do her service for the Israeli Army. She could get a cushy assignment—maybe pushing paper somewhere—or she could just take her chances. Only, Aggie isn't like that. Despite her small size and the fact that she needs to gain weight even to make the grade, and despite the total disbelief of her entire family (except her grandmother, who is an old freedom fighter and don't you forget it), Aggie is trying out for an elite combat unit.

Valerie begins her story as she finishes her exams, breaks up with her boyfriend, and leaves for service with the Israeli army. Nothing has prepared her for the strict routines, grueling marches, poor food, lack of sleep and privacy, or crushing of initiative that she now faces. Offering a glimpse into the life of a typical Israeli teen, even as it lays bare the relentless nature of war, Valerie's story is one young readers will have a hard time forgetting.

In a relentlessly energetic and arresting voice marked by humor and fierce intelligence, Shani Boianjiu, winner of the National Book Foundation's "5 Under 35," creates an unforgettably intense world, capturing that unique time in a young woman's life when a single moment can change everything.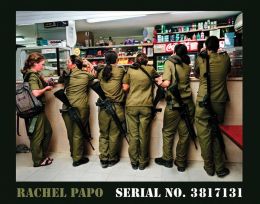 Photographer Rachel Papo, who was Serial No. 3817131 during her service in the Israeli Air Force from 1988–1990, reveals these young girls caught in transient moments of self-reflection and uncertainty, as if stuck in a state of contradiction. Rather than portraying the soldier as heroic, confident, or proud, Papo's photographs reveal the soldier and the teenage girl in constant negotiation, caught between two extremes: a soldier who lives on an army base surrounded by hundreds just like her, but underneath her uniform, there is an individual who wishes to be noticed.
Filed under: book based movies, Israeli solders, Military, Reader's Advisory, world war z
About Karen Jensen, MLS
Karen Jensen has been a Teen Services Librarian for almost 30 years. She created TLT in 2011 and is the co-editor of The Whole Library Handbook: Teen Services with Heather Booth (ALA Editions, 2014).