Love is in the air: teen romance (guest post by Jennifer Rummel)
With love in the air, it's a great time to settle down with a romance book. I'm a sucker for a great teen romance novel. Since I'm a HUGE Jane Austen fan, it seems natural that my love of her work would transfer into historical romances, especially of the Regency Era.
Some of my teen historical romance favorites include . .

.
The Season: Sarah MacLean
Lady Alexandra is set to make her first societal debut, amidst ball gowns , parties, and suitors.

 

She wants a husband who doesn't frown upon intelligent women.

 

She talks about the latest gossip and fashion with her three best friends. Suddenly, her feelings take a turn when she looks deeper at her brother's friend. He's mourning the loss of his father. Alex overhears something that might be a clue to the unexpected death.
Ransom My Heart by Princess Mia
I'm cheating a little with this one as it's technically an adult book, but it's a cross-over too because it's by Meg Cabot and mentioned in Forever Princess. I love how the two books blend together. Mia writes this historical romance set in 1291. Finn is the daughter of a miller, whose pregnant sister needs a dowry and fast.

 

She agrees to kidnap an Earl returning from the Crusades, but she never expected him to be quite so…handsome.
La Petite Four by Regina Scott
Days before she's set to make her societal debut, Emily's father tells her that she's to be married- in eight days. Emily's disappointed at missing her season with glittery ball gowns and parties at the side of her three best friends. She wants to gossip over fashion, dances, and potential suitors. She's certain there's something lurking behind Lord Robert's desire to marry her. She, along with her three best friends (la petite four), vow not to stop until they uncover his scandal and cancel the wedding!

 
SCROLL TO KEEP READING THIS POST
Fantasy Historical Romances:
Alanna by Tamora Pierce
Alanna changes places with her twin brother in order to learn how to become a knight. He's pretending to be a girl while learning magic. Because of her size, she's having a rough time, but she's determined to make it.

 

The other boys aren't fond of her. Then she meets the prince. He becomes her friend instantly. As their friendship grows, so does the danger surrounding them. Could there be someone who doesn't want the prince to live?
Aurelia by Anne Osterlund
Princess Aurelia's life is in danger.

 

There have been at least three attempts on her life, but her father doesn't want her to know the truth.

 

Instead, he acquires the help of the royal spy to find the culprit and the mastermind behind these attempts. Robert, the son of the spy, went to school with Aurelia and never stopped thinking about her. There's no way he can keep this secret from her.

 

The two question people and devise plans to flush out the responsible party.

 

However, they missed one crucial detail – and it could cost them both their lives.

 

Bewitching Season by Marissa Doyle
Persephone

 and Penelope are set to make the debut into London society when their governess goes missing. As the two 17 year olds dig into her disappearance, they uncover more than just a kidnapping, but a magical plot that could foil Princess Victoria's reign.
Graceling by Kristen Cashore
Katsa is graced with the ability to fight. She can kill a man with her bare hands, per instructions of her Uncle. As she grows older, she declines to work for him. She meets Po, one of the only men who can challenge her fighting skills. She finds herself drawn to him. He must leave to uncover answers in a deadly plot.

She can't bear the thought him going without her, so she travels with him. Their path is as dangerous as their enemies. Can they survive the journey and face the truth about the threat of the seven kingdoms?
Touch of Power by Maria V. Snyder (A/YA crossover)
Avry's a healer, with a price on her head. All healers have been wanted for capture since the plague hit.  Avry lives on the run, moving from city to city. If she stays in one place too long, she inevitably finds a sick child. Unable to help herself, she heals the child.  This time, before she can run, she's caught.

 

Avry's not certain, but the more she learns about the land and the politics, the more scared she becomes for the future. Can she really be the one to save everything?
Jennifer Rummel is the YA Librarian at the Otis Library in Conneticut and she blogs at YA Booknerd.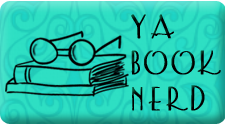 Filed under: Collection Development, Historical fiction, historical romance, Reader's Advisory, Romance
About Karen Jensen, MLS
Karen Jensen has been a Teen Services Librarian for almost 30 years. She created TLT in 2011 and is the co-editor of The Whole Library Handbook: Teen Services with Heather Booth (ALA Editions, 2014).