Some Good Advice
"Dear Abby, My parents don't let me go out with my friends, even though I'm an A student."
"Dear Abby, My dad is overseas in the military and my mom seems like she's under a lot of stress and is taking it out on me."
Dear Abby wrote a book for teens in 1960. Image via cc on Flickr.
Pauline Phillips passed away this week.  For decades she doled out advice and quips to dedicated readers everywhere in her syndicated Dear Abby column.  I was a loyal reader, especially in my teen years when everything seemed so topsy-turvy and as a shy person, I was loathe to ask advice of anyone who actually knew me.  Reading her column, I imagined myself in her readers' shoes, wondered what the rest of their lives were like, pondered just what brought them to put pen to paper and write to a newspaper columnist – not a stranger, just a friend who hadn't met them yet.
I branched out.  I read Ann Landers (Abby's twin sister), Dear Boy (in Sassy), and the random advice columns in everything from my grandma's Parade to my friend's Seventeen to my mom's Redbook.  I pretended to dislike listening to Car Talk when driving cross country with the family, but really, their advice was nurturing just like the others.  Later I discovered Dan Savage, Ask Alice, and Amy Dickinson who confronted issues I'd never imagined but couldn't get enough of, as well as answering questions that I could've written myself.  If I'm stuck in a waiting room, I've been known to read "Ask a Pilot" in AOPA Pilot,  or anything else I can get my hands on, whether the advice is on cooking utensils, diaper creams, dovetail joints, or tax preparation.  I'm an advice junkie.
It Gets Better, Edited by Dan Savage and Terry Miller
Sprung from advice columnist Savage's often repeated counsel to young people struggling with coming out to just hang on, that it gets better and life is worth living, It Gets Better began with a few videos on YouTube and soon grew by amazing proportions, garnering videos from celebrities, world leaders, and regular people.  This book collects a number of essays.
"Dear Abby, I'm thirteen but I've already ruined my life."
"Dear Abby, I was sexually abused."
SCROLL TO KEEP READING THIS POST
"Dear Abby, I can't stop blushing."
Dear Abby answered letters from teens with as much respect, understanding, and wit as those from adult writers, and in doing so, showed not just her teen letter writers, but all of her readers, regardless of age, that teens were worthy of a kind ear.  Dear Abby valued the experience of the teens.  She showed her readers that their stories are important, that it is possible to take yourself too seriously, that everyone deserves to be heard.  The example she set is one teen librarians can learn much from in our approach to our patrons:  
Listen first, treat every request with as much respect as any other, and keep a sense of humor.  
Advice columns and teens go together like peanut butter and jelly.  In honor of the life of Pauline Phillips, the legacy of her daughter Jeanne Phillips who writes Dear Abby now, and all of the other advice columnists who have made a difference in our lives and in the lives of our teens, here are some novels featuring advice givers.
Welcome, Caller, This is Chloe by Shelley Coriell
Chloe doesn't want to be an intern at the student radio station, but she makes the most of the experience when she puts her warm personality to use and begins a call-in advice show.
How To Be Popular by Meg Cabot
After years as a social outcast, Steph finds an advice guide and follows the instructions in the book to the letter.  The advice is good… but will it last?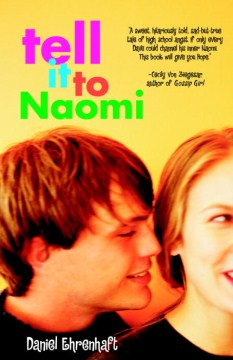 Tell It To Naiomi by Daniel Ehrenhaft
Sensitive Dave takes over the school advice column under the guise of his older sister, and the column becomes an unexpected hit.
The Making of Dr. Truelove by Derrick Barnes
A cyber twist on Cyrano, Diego starts an online sex and relationship column in hopes of expressing his feelings for Roxy, but things go awry when his buddy J decides to embody "Dr. Truelove."
Gimme a Call by Sarah Mylnowski
Dropping her phone in a fountain doesn't totally fry it, but it's not quite the same as it was.  The only person Devi can call now is herself… three years ago.  But will Freshman Devi listen to the advice of her older self?
Swoon At Your Own Risk by Sydney Salter
Polly's summer is sinking fast.  Can she save it by following the advice of love columnist Miss Swoon, aka Polly's grandma?
A Field Guide to High School by Marissa Walsh
When she leaves for Yale, Claire gives her freshman sister Naomi a priceless gift: a compendium of everything she learned in high school.
A note: the questions quoted above are all pulled from actual questions answered in the Dear Abby column over the years.
-Heather
Filed under: Booklists, Realistic Fiction, Teen Issues
About Karen Jensen, MLS
Karen Jensen has been a Teen Services Librarian for almost 30 years. She created TLT in 2011 and is the co-editor of The Whole Library Handbook: Teen Services with Heather Booth (ALA Editions, 2014).